The other day at work the head guy in CNC lathe dept, needed a gage made. He came to the tool room with a piece of metal said it was 4140 pre heat treated. Wanted me to turn it down and cut hex on each end for go No go gage . Threw it in lathe and commenced to turn down . The insert just went away ,put another in same thing. I turned around ti him said this aint no dam 4140 he said I dont care make me a gage from it its all I got. So away I went made his gage in about 2 hours and had piece of this hard stuff left . Layed it on my tool box and went back to doing what I had been working on.
Got to thinking about it later and me think make a nice shank for some kind of insert cutting tool. I remember a while back some one made a nice cutter for dovetails . I turned around and their in the tool rack on my bench was a 45؛ cutter. Me not having one at home Think`s Ok that is what I am going to make. I finished up job I was on and nothing to do I hoped in the lathe and blanked it out. Then boss came in with enough work for a few days , so Friday i brought the blank home to finish the mill work. The metal milled real well buy a bitch to turn.
So I get off at 1:00 on Fridays about 2:30 I start to machine blank to fit inserts 3/8 IC square with 10؛ side rake and 6/32 taped holes for flat head screws. hour and a1/2 later finished and here it is .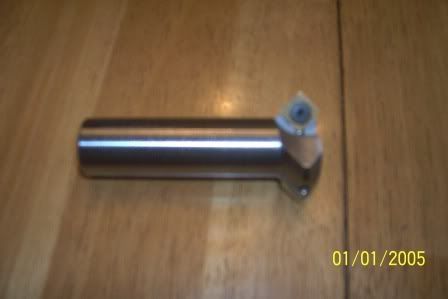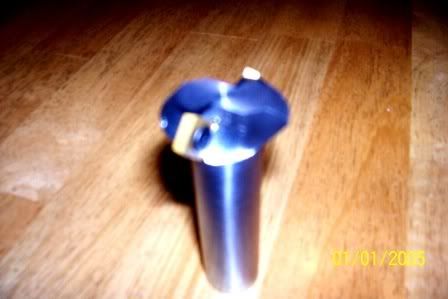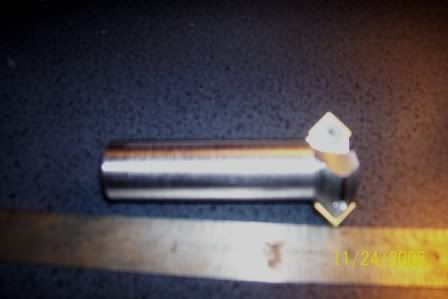 Any questions will be answered, hope you like. Sorry the pictures did not come out any better