Hi
We have this anvil like device at work. It is basically a (very) lightweight "anvil" shaped device. The school has done jewelry and metal embossing courses in the past so perhaps it was used for these courses.
The "T" shaped item is made from 2" square bar, approx 14" long across the top and the stem is approx 12" high. (Perhaps it is a casting but without closer inspection, looks to be made from large square bar stock).
Something like this but scaled up a little...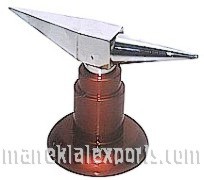 The stem of the tee is placed into a square hole in the workbench, the top of the tee is similar to an anvil. It has a flat section on one leg of the tee, tapered from the middle to approx 3/4" thick at the end. This is simple enough to mill.
The other leg of the tee is like the horn end of an anvil. Turning a taper to produce a cone shape is not a problem, my quandry is how do I turn the cone so that the tip of the cone is flush with the top of the tee. That is, if you look at the device from the side, the top of the anvil is flat across the top, one side of the "cone" or horn is in line with the top surface of the anvil.
How do I turn such a cone?
kind regards
Peter