Have just about wrapped up a complete tear down & rework on my latest lapse into my tool addiction ... a Porter Cable (rebadged Logan) 7" shaper. Found on flea-bay with the description of "refurbished" Porter Cable shaper, etc -- Heh!, refurbished turned out to be an ebay paint job! - not a very good one either... Oh well, he at least done a pretty good job of cleaning all the goop, grease, dirt, etc off it. Had to drive from N La to Indiana to get it, but I got a young-un in Mich with gkids, so that gave an excuse to go on up there. Only had the 2 of us to load, so took it down into 3 main pieces,---the stand is a bear!-- would've been top heavy anyway.
The little guy had a pretty busy life at one time, had some serious wear at all the rotating parts -- (the ram is in quite good condition.) Had conventional oilite bushings and they were beat pretty badly, but were easy enough to replace, along with a new shaft, the bronze slide block for the crank pin was the most beat up of all, but a few minutes on the lathe with a nice piece of cast bronze out of the scrap box and had a new one ready. New sprockets & chain (yeah, this and the Logan were chain drive --and, variable speed!) and new V belts, for only about $50 outlay on it.
Did not have the upper and lower belt covers ... the upper is a cast item and I have found a sketch & dims on it and am gonna attempt to cast one in aluminum!! (There was mention the sketch/dims were attributed to a Mr Rouche ... would that be
our
JRouche?)
OK, I really dont need any catty remarks on the paint color!! -- that is a
very
close match to the original color ... thank you!! (not my first choice either-- although its better than the black!)
Got it set up in temporary mode today to give it a check-out and I'm really tickled with it ... quiet & smooooth! Will get the last few little things finished and get him set in a new spot (yet to be determined) and see if I cant find something for the little guy to strut his stuff on.
So ..... this begs the question, do any of y'all have one, or know of one, or know of source of info, etc. Have joined up over at yahoos shaper site and found some pretty good stuff already and Kays site... what I'd really like to know is what was the years of production on these? Figure it wasnt very long, and probably around the 50's/60's??
The way it was presented in the flea bay ad...
Just unloaded off my truck, ready for some 'destruction'
Gads, will I EVER get all this back together!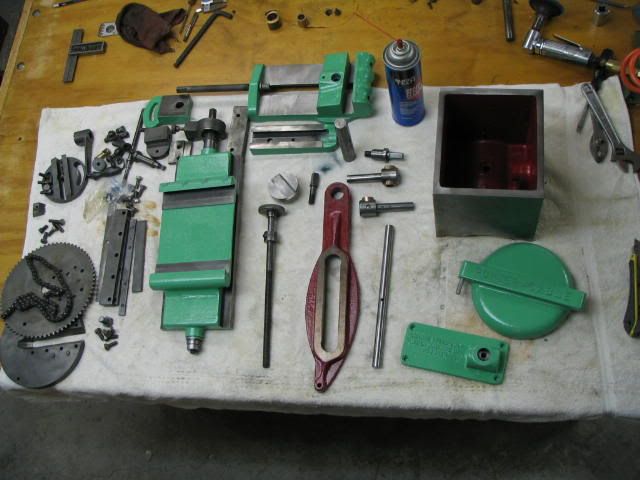 And the way it looked today....