Tool-makers "buttons" as a sine bar.
In a previous post on this thread, I said I'd show how to make and use "Tool-makers Buttons" as a sine bar.
So here we go.
All that Tool-makers buttons are is discs made from pretty precisely round short lengths of say "Drill rod" ("silver steel" in the UK, OZ and NZ) or even cold-rolled rod. The diameters are not important at all but the buttons being the same diameter is important. Both sides of the buttons are faced off with a small "land" on the outer diameter of the end faces and a "relief" as well. The buttons are drill to about 1/16" clearance on what ever thread you choose to use to hold the buttons down securely. The large clearance should be self-evident.
Here is a quick sketch of how it all works: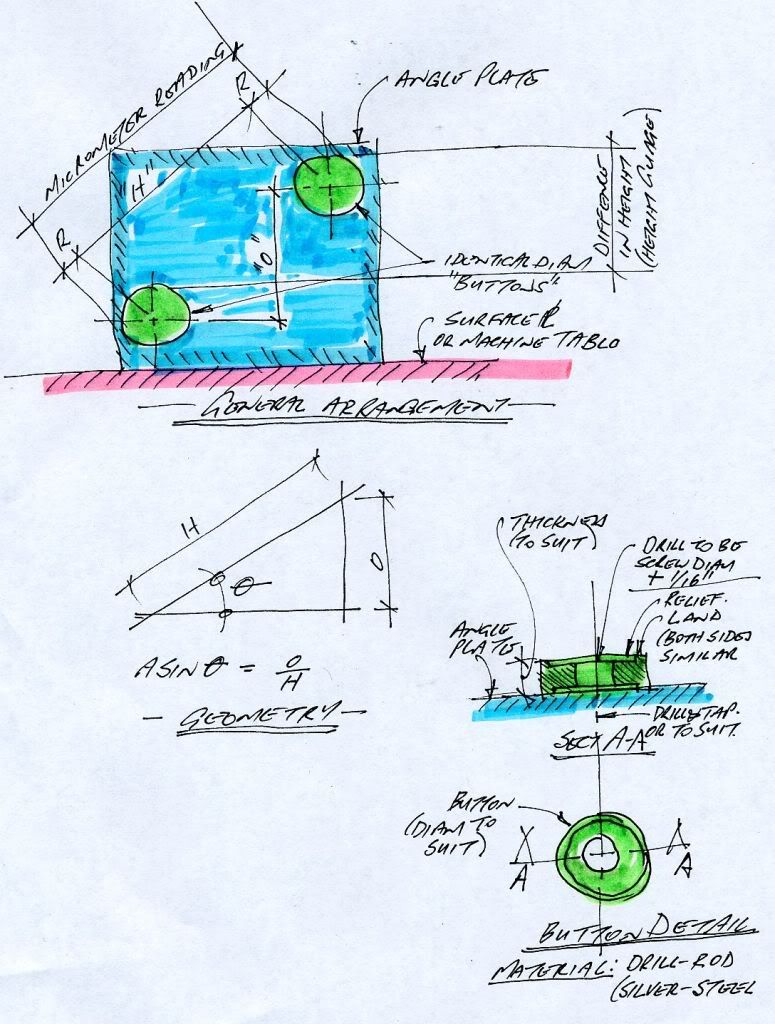 The angle plate is only a suggestion. Use what-ever you like and fix the "buttons" how ever you like. Just slip what ever you want to measure the angle of up against the "angle plate" and adjust the "buttons" so that two of them both contact the surface to be measured. After that, just use a micrometer of a good digital or vernier caliper to measure over the buttons, subtract two radii and you have the centre-distance of the buttons. Use the vernier or (in my case) digital height guage to measure the difference in height between the two buttons from the "surface plate".
The required angle is asin "O" (opposite) over "H"
(the "hypotenuse" = button centre distance).
= asin (O/H)
Easy as that and very handy too.
It is surprising just how handy and accurate the buttons can be.
Here is my digital height guage - note the fine adjustment.
Here it is on my "float glass" "surface plate":