At the risk of insulting your intelligence, I'm going to go into some detail on this upgrade, for the benefit of those who are new to 3-phase motors.
When the question of "which color chinese lathe should I buy" comes up, one argument for buying the more expensive colors is that they come with a better motor. It's true that HF motors suck. It's also true that all colors use the same basic controls and contactors -- and the contactors are the most failure prone item on the chinese lathes.
My thinking is that the money you save buying the HF colored lathe will pay for an upgrade to a 3-phase motor and VFD. So I run the HF motors until something breaks and then upgrade to 3-phase.
The controls on one of my 12x36 lathes conked out recently (the other lathe received a 3-phase upgrade years ago). I spent a day trying to troubleshoot the problem and only succeeded in breaking the drum switch. So I followed my own advice and sprung for a 3-phase upgrade.
The HF motor has a weird Chinese frame size and weird metric shaft size. But a 145T frame will fit the lathe, more or less. You'll want a TEFC (totally enclosed fan cooled) so it won't be bothered by coolant or chips.
The HF motor claims to be 2 HP, but we all know that HF HP ratings are a lie. A quality 1.5 HP motor will work fine.
It is not necessary to use an expensive "inverter duty" motor, however, inverters do make motors run a little hotter, so I favor the industrial grade motors with a cast iron frame and cooling fins.
I found a new heavy duty Siemens 1.5 HP motor on ebay for $70 delivered. Before ebay went down the toilet, it was common to see 3 phase motors sell for $9.99 plus shipping. Nowdays most motors are "buy it now" so the bargains are harder to find.
A 145T will not accept the metric HF pulley, so a 7/8" bore pulley must be added to your shopping list (I suppose you could bush the HF pulley, but pulleys are not that expensive). An ebay pulley set me back $19, delivered (the shipping was more than the pulley).
The cheapest VFD I could find on short notice was a Teco EV from Dealer's Electric, $196 delivered.
http://dealerselectric.com/item.asp?PID=394
Here's the goodies.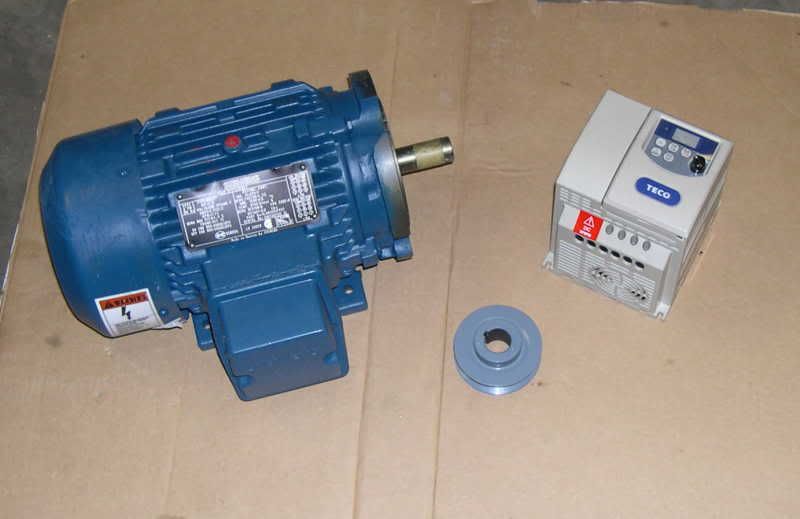 The 145T frame matches the HF motor mount just fine, however, the metric bolts were too fat for the holes in the 145T frame. 5/16" bolts seem to be called for. I didn't have the appropriate bolts on hand, so I just drilled the holes big enough to accept the metric bolts.
Flexible metal conduit was used between the motor and the VFD. I had some flex left over from a previous VFD install, so I didn't have to buy more. Special fittings are required to attach the flex to the motor -- you can get the flex and the fittings at Home Depot. The fittings I had on hand were a loose fit in the motor peckerhead, so I JB'd the fitting to the motor.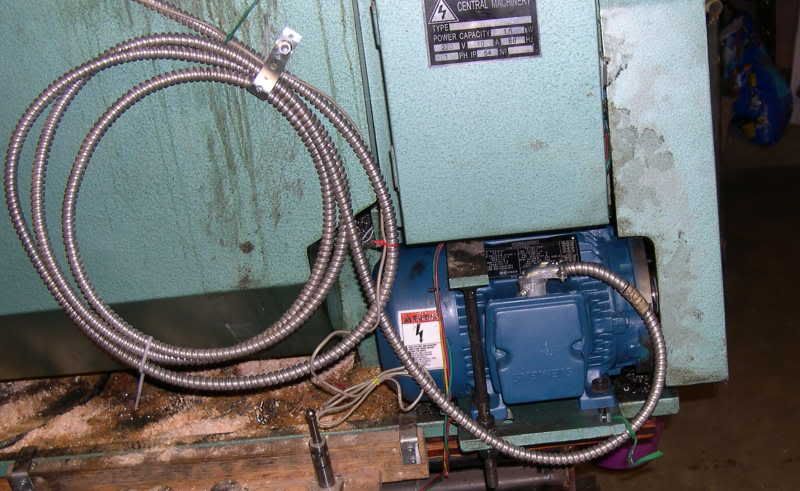 Eventually, I'd like to control the VFD through TurboCNC. But that may take a while to set up, and in the meantime, I needed to place the VFD where I could control it while running the lathe. This picture was taken before the wiring bugs were sorted out, so the wiring looks a little different now. This is not a great way to mount the VFD, but it is convenient. Eventually it will be re-mounted in a better enclosure (I hope).
Most people will want to utilize the lathe's drum switch to turn the VFD on/off and forward/reverse, just like a normal lathe control. My drum switch was broken and who knows when I will find time to fix it, so I used a conventional household switch. I decided to mount the switch on the right hand side. My thinking was that it would be impossible for me to turn on the lathe while my right hand was still busy chucking, something I have been known to do with conventional lathe controls.
Here is how the switches are connected to the VFD.
4 o-------o/ o-------o 8 Closing this switch turns the motor on
5 o-------o/ o-------o 8 Closing this switch enables reverse
This is what is known as a "Run/Stop-Forward/Reverse" mode. This option must be enabled in the VFD (F06 = 001).
Remote control must also be enabled (F04=001).
And NPN must be enabled, which means you turn it on by grounding the terminal. I thought NPN was simpler than PNP for this particular setup.
As posted in another thread, I had a heckofa time getting the grounding right on this install. And as mentioned in that thread, the manual for this VFD totally sucks. If you have a lot of experience with VFDs and are fluent in electrical symbols and terminology, you won't be bothered by the manual. But if your electrical skills are modest, then you will need assistance.
I frequently referred to the manual for my other VFD, a Motortronics that I bought from Surplus John. Many of the functions are similar, and the Motortronics manual has good explanations and wiring diagrams. I also had to do some googling and beg for help on this forum. It took too long, but eventually I got it running well.