Had a 12 hr day at work, drag my butt home, ready for an evening of relaxed web surfin' but when I walk through the door wifey says "The front door lock is broken." I took it apart and found the little widget shaft is broken off from 31 yrs. of metal fatigue.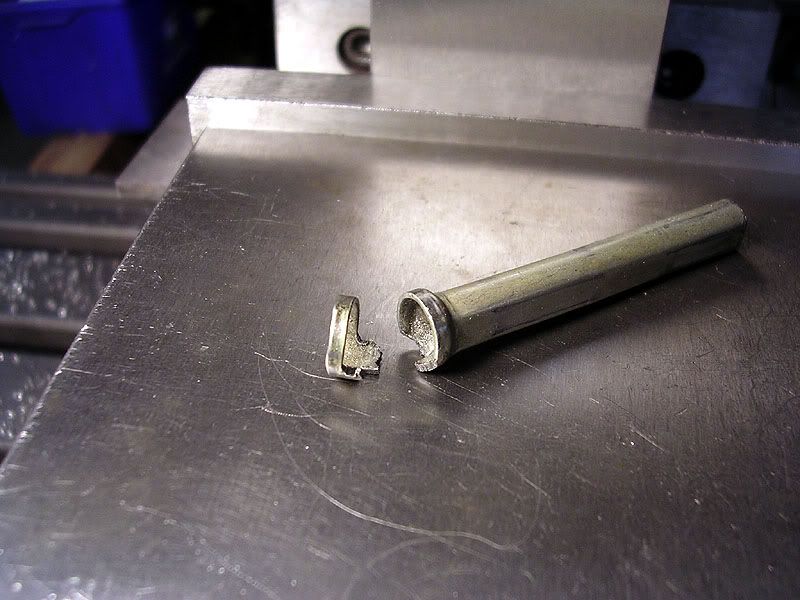 I started to climb back in the van and go down to Home Cheepo for a new lock assembly but man, quality lock hardware is outta sight these days. I looked at the broken part a little closer and decided to see if I could whip up a replacement.
I found a bit of stainless rod (303 I think) and turned the basic shape in the lathe. I switched it into a 4 sided 5C collet block to mill the flats...the shaft had 3 flats and a radius...looks like the letter D. I had just made the collet ring spanner a couple weeks ago which made the next step dead easy. I turned it up vertical and cut the slot with the little 3 3/4", 24 tooth carbide blade I made an arbor for a while back....it cut the slot like a hot knife through butter. Man I love home-made tools when you really need them and they work perfect!
Then, back to the lathe it went where it got parted it off to the proper length. It fits perfectly and is a much better piece than the old stamped POS. I love it! Zero cash outlay and a good, solid fix. Take THAT, Home Cheepo.