Hope I don't hurt anyones feelings here...
anyway..a building contractor with 25 years experience shows up the other day..wringing his hands.
He's building a house for some people and has to have it done in a few weeks.
This guy builds some pretty cool houses...the ones with all the wonky multi level roof pitches etc.
That's why they hire him...he's very good at what he does.
He gets the thing all up...roof buttoned up..inspector passes it.
Ooops...inspector with 5 years carpentering experience changes his mind.
Nope...he has to put up metal hangers where all the joists meet.
OK...so where do we get these hangers from???
They are so whacked out...no big company would build them without proper engineering and testing. Would take at least a year.
The guy can't believe this...he's never been asked...or even heard of using hangers on this complicated of a deal. The gist of the thing...the weight alone would hold all these in place. It is all on top of a center supporting wall. Where can the roof go??? So he spends a couple days making these...so I can copy them from 1/4" and 3/16" plate. The "inspector"..with no knowledge of welding or fabricating...will "approve" these for him...LOL
I'm still cutting...omg...there's not one straight angle in the whole bunch...all weird compound stuff.
Welding it together is going to be a big challenge...lotta bracing...lotta time.
I'm glad I'm not footing the bill for this. This is just a few of them..there's about 6 more after these four are built..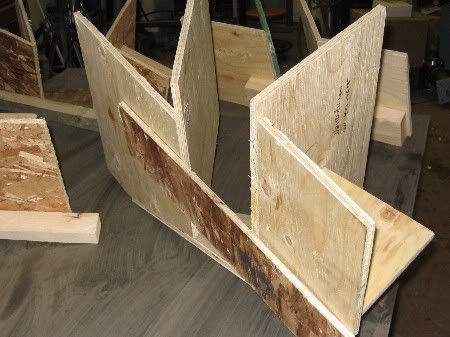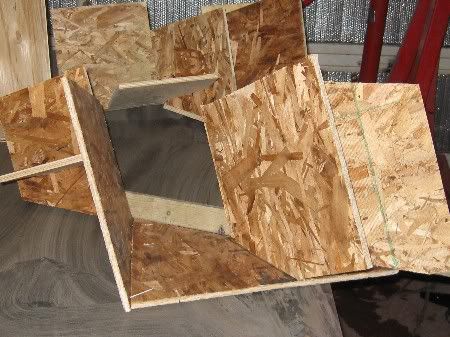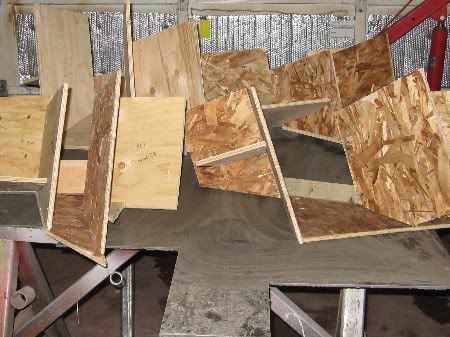 Russ