This thing here...a rear plow mount off a big JD tractor...weighs about 300#.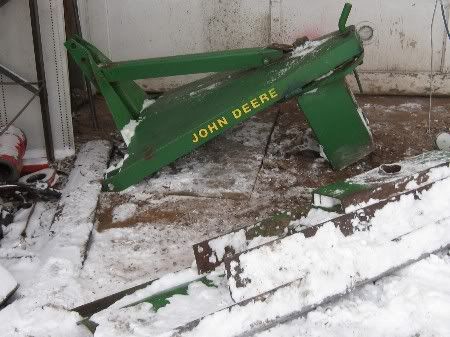 20 minutes ago it had me pinned under it in the back of the customers truck. Gawdamm that hurt. We where trying to unload it when it slid over and got caught under the edge of the pickup box.
I had it on the crane but we couldn't budge it from the ground. The guy is an older fella so I jumped up in the back and was trying to move this thing...the deck of the truck was really slippery with snow and ice.I was trying to balance it and move out of the way...he grabbed it and gave a yank.
It spun around so fast...and that square part with the hole in it...crashed down...knocked me under it then landed on my leg right below the knee. I'm glad the ol' guy was here. He had to rehook the crane and lift that thing off me.
Holy Smoke...that's about as close as I've come to breaking a leg in a long time.
Dirty Rotten $%*@&$%
Lesson...watch your footing and watch out for what others do when you aren't ready.
I'm going to pout now... I have a giant toothache in my leg...