This time I'd like to avoid my normal motor repair process of procure/evaluate/teardown/cuss and throw in the scrap heap due to irreparable damage during the teardown process. Anyone here have any tips on safely dismantling this little pool pump motor? It's 115V/12A 3450 rpm and would be perfect for making a little polisher for my shop.
As you can see, the shaft is severely corroded but other than that, it runs perfectly. I'd like to get the armature out and get it into my lathe between centers to turn it down & fit a sleeve.
There's a centrifugal switch assy in the view shown below and the mechanical bits appear to be a permanent part of the armature. I tapped the other end loose from the case but the whole assy is moving back & forth but stops about 1/8" out.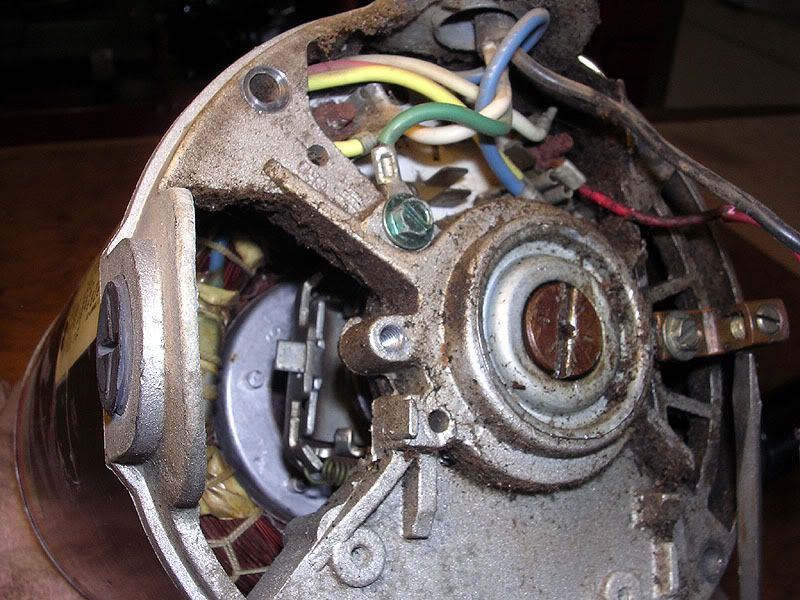 The centrifugal sliding ring appears to engage the switch/terminal unit but looks like the whole armature/centrifugal unit should slide out the other end, leaving the switch/terminal in place.
The shaft on the terminal end of the motor has a slotted cap that's larger than the shaft itself so that must be what's keeping the shaft from sliding out of the bearing on that end? It's already boogered up from someone else's work so I'm guessing it has to come off.
Any ideas which direction the cap turns to remove it? I've got to make a flat blade bit to go onto my little 3/8" impact wrench to get it off.