I finished resurrecting the little Barker mill from the ravages of Katrina this afternoon, and I must say I am
Very
pleased with the results, this little guy is just too cute and sooo well made. Even the little vice is quite well made!
But now ---- what the heck can I do with it?? Someone on the other thread mentioned notching pipe, and indeed that is a good suggestion (course I dont ever notch pipe!) Any other suggestions ... with those handles to get motion, it would be difficult to get any kind of fine movement. This thing was built to set it up, lock it down and bore, slice, notch, etc those 2-3-4000 gizmos one after another.
Any other ideas?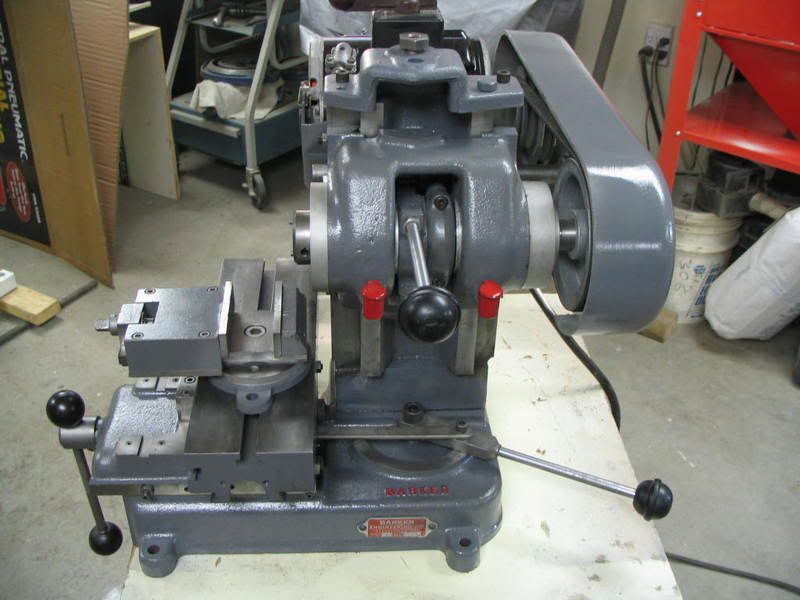 For a follow-up on the unusual spindle/bearing set-up, I did re-install the original bearings and they are running very smoothly and quiet just bench running, I think they will be good to go.
On putting the spindle back together, I got a clearer picture of the set-up. That groove in the left side was for a big circlip which was a "stop" for the double row bearing to butt against as the nut was tightened, ... but, -- the nut was restrained from putting any load on either bearing by a 'pipe' spacer running down the center of the bore! and when the bearings, etc was in their proper position the nut would 'bottom' out. So, Im still a bit puzzled as to why it is set up that way.