The other day Mac had us dribbling and slathering over his new toys as told in this thread.
http://bbs.homeshopmachinist.net/showthread.php?t=32096
Note in the pictures in post #8 there is a chrome screw to the right of the cross slide hand wheel.
You can be forgiven thinking that this is a lock for the dial, it isn't, the lock is the catch on the face.
Neither is it a lock to lock the slide.
It's true purpose is to enable quick threading, or rather quick retract.
Infeed on these for a full turn is 0.125" radial or 0.250 " on diameter, now 1/8" radial may not clear some of the deeper pitches so they built a disk mechanism inside to allow it to do nearly two turns, more than enough for any depth of thread that the machine can handle.
Here's the build up if anyone fancies copying one.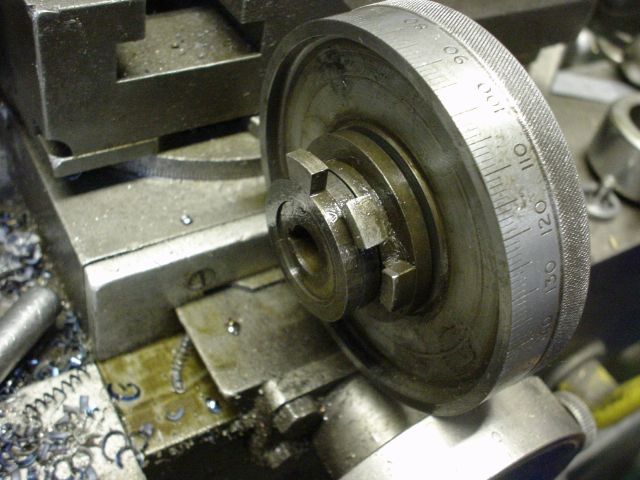 This is the dial pulled off. The dog to the right is fixed on the dial, the centre one and one on the left are free to turn.
The centre on is extra wide so it can catch both.
How it works is you screw the chrome screw in and wind the cross slide in nearly two tuns so it catches both washers and then hits the fixed stop. You then use the top slide, slewed round to 29 degrees to apply the cut and start the thread.
At the end of the thread you wind the cross slide out until it's clear, no need to watch any dials.
Wind back to the start of the thread, wind cross slide back in until it stops and put fresh cut on with topslide, do pass 2 etc
Very quick as you are only watching to top slide dial for infeed distance per pass.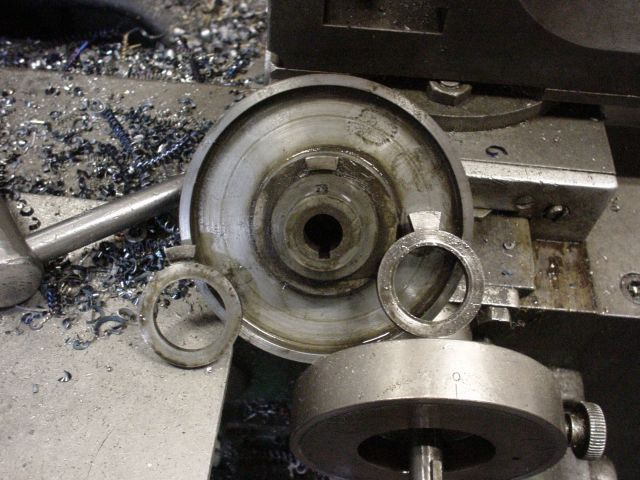 View inside with both washers off, it's a very simple mechanism but very effective for doing threads fast and foolproof .
.