One of my favorite things to see on boards like this is when folks post projects that they are working on or have completed. Simple or complex does not matter, I enjoy seeing them, always a source of inspiration. So I thought I would post a couple of small things I have recently completed.
Last year, I had one of my shotgun barrels fitted with interchangeable choke tubes. The primary reason was so that I could use a rifled choke tube in it for deer hunting. Where I live, deer season is shotgun only but rifled shotgun barrels and chokes are allowed. So I try it out, it shoots great. After deer season is over, I decide to try switching to an extra full turkey type choke to see how that shoots. I find that despite a dab of never-seize that I put on the rifled tube, it is just not coming loose. Yuck. For any not familiar with these, the tube has 2 notches in the end for loosening/tightening, like this: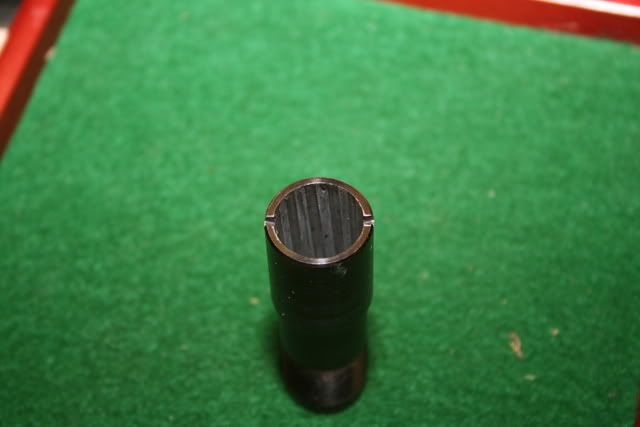 The standard "tool" for this is to use a quarter to engage the slots. I try that and it won't budge. I grab the quarter with pliers, try again, and bend the quarter. So I do what any self respecting HSM-type would do, I set out to make a tool. Using a
billet of the finest aircraft grade surgical stainless steel
(= small cutoff of 1" round 303 from my box-o-stuff), this is what I ended up with: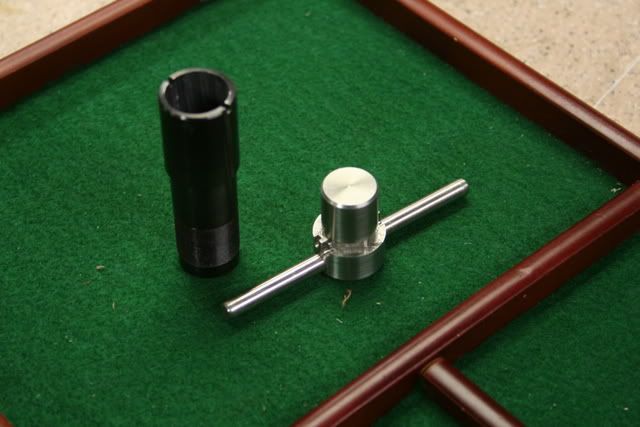 This is how it fits in the choke: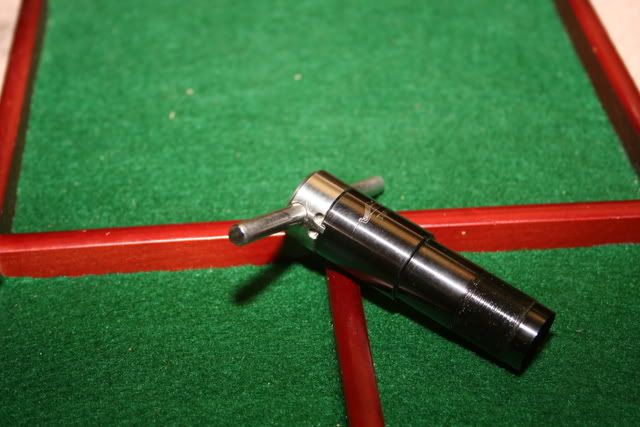 Worked like a champ and everyone who I show it to, wants one.
And on a totally unrelated note, here is a shot of my "defibrillator coffee table", the only one of its type that I am aware of. Yes, that is a real (but old) defib, I only made the little brass feet that cap the bottom of the legs. The legs are made from textile loom spindles for a slight touch of "steampunk" look. The brass feet are threaded, and some 3/8-16 all-thread rod runs from them through the spindles into threaded holes that I put on the bottom of the machine. There is a glass top for it, not shown in the pic. I made this as a gift for my oldest daughter and her husband. She is a cardiac nurse, her husband is a graphic artist. The spindle legs were his idea. Textile was once THE industry around here, so there is a bit of local tie-in there. Artist types think like that, I guess. have a look: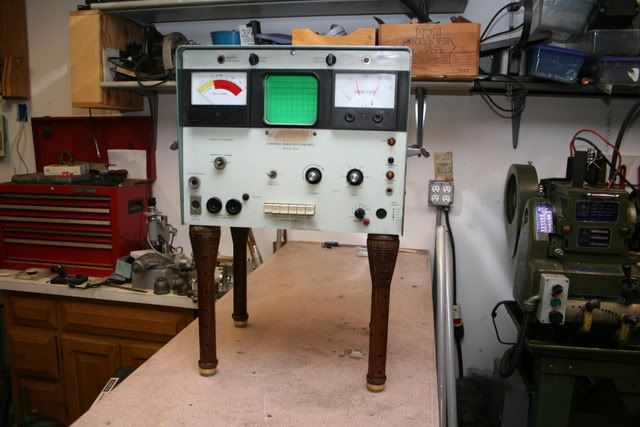 PS - Before I panic anyone into warning me how dangerous such a machine is, I know. I work around HV stuff for a living. In fact this machine functioned when I got it, I emasculated it by removing the HV transformer and the 16 microfarad, 7.5KV(!) capacitor that was in it, and I chopped the cord off. I have to think that cap and transformer could be used to make
something
cool...