A few other gizmos, the one I really teach with is the "right Angle Transmission". I got that out of "Projects in Metal", an old edition probably 1995 of so. The basic idea is to create a right angle drive device that runs smoothly without gears. The 5 drive rods are .093 drill rod and weld rod, the students actually design and program a bend jig and make the CNC machine bend the drive rods to 90 degrees +/- 1/2 degree, which means lots of arc adjustment. The handle was kind of rigged up by me, but is now CNC bent. The frame is also CNC manufactured after one student programmed it up because he was a bit irate that i wanted them to manually mill it out. The wheels are manually machined and drilled, the students have to trig out the holes, indicate the drive wheels to .001 or better on center, then drill them on a Bridgeport out of a 5-C collett block, which has to be indicated .0005 to the spindle perpendicular.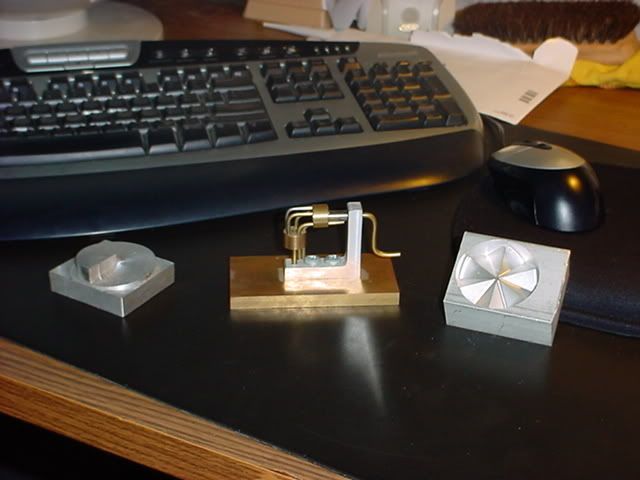 The other parts were just made by me and a few students who were trying to make a "wild part" in our own little version of the masterCam wildest part competition in my shop. Start with a 3/8 ball end mill, end with a 1/8 ball end mill. The criteria is to create a .0002 or better "wave", which requires a bit of thought in the increments of degrees in the pattern and some additional use of CAD as a tool and trig to see how they may do it. Fastest part run within the speed and feed criteria as well as meeting the quality criteria is the key, because if you run it too smooth you almost double the time, running not smooth enough does not meet quality. The whole "roughing" and finishing thought and planning process is key as well.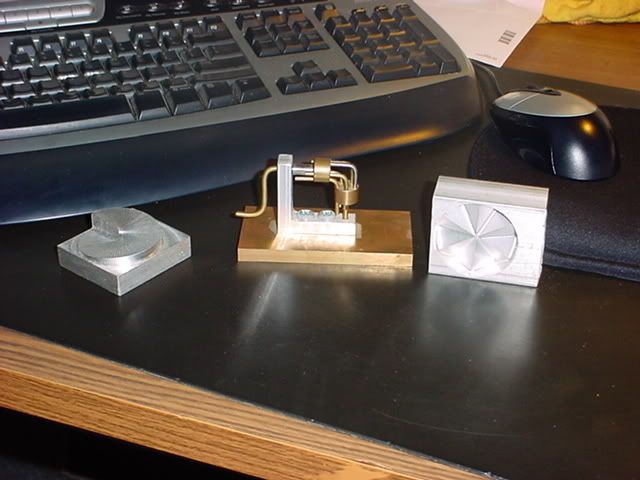 Just sharing a few simple things. Students love this stuff. They like making tools for the tool box when they are going into the trade and know why, but some just don't get the why until they make a few smaller "gadgets" and gizmos to gain the love and appreciate the true artistry of machining first.
Yes, the students do make air motors as well as parallels, hammers, tap wrenches, and some real cool levels