Yesterdays project was to make a block and tackle system to lift my rotab off the table and onto the mill. Nothing spectacular but in lieu of Niel Jones's thread questioning counturing on a rotab I thought I would post this project. All made out of stuff in the scrap bin.
The two pieces of plate that were going to be the cheek plates were clamped to the table close to center and then the long cuts were indicated to the X axis and then cut one at a time. Four different cuts at four different angles. After each cut the table was rotated to line up the next cut to the X axis. ( I used the lil laser edge finder that Tiffie put me on to to do the indicating…I love that thing. When the red dot runs straight down the line…your there) Sorry…no pic of cutting the straight lines.
Next I had to cut the radii…three of them. The plate had already been drilled ¼ inch for the axles and end bolts so to center the plate I just used a piece of ¼ inch drill rod held in the collet and run into the hole to hold the plate on center while I clamped it over rotab zero.
I then lined up the longitudinal cut with the Y axis and then moved the X axis out the radius of the arc to cut and then got 'er done. ( I always add a couple of thou to this radius because I can always take off a bit with a file but have a hard time adding it back if I overcut) Rotab was then moved back to center and the next center held in place and clamped then cut as above. Same for the third arc.
Next step was to mount the table vertical with my 3 jaw mounted on it to cut the sheaves. Two2 inch ones and 2--1 1/8 inch..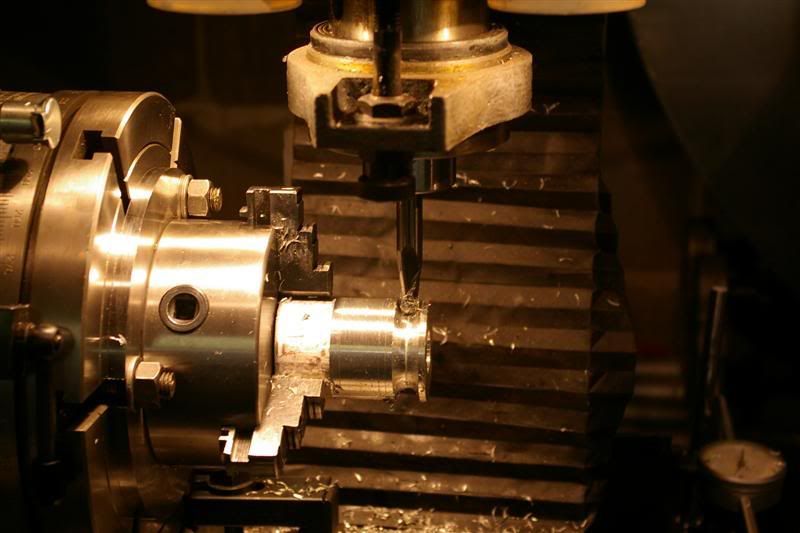 Next I moved to the lathe to cut off and face the sheaves and make the spacers and bushings. The sheaves were bored out and the bushings turned to a press fit. I didn't have any of those fancy preloadable bearings in my scrap bin or I would have used those.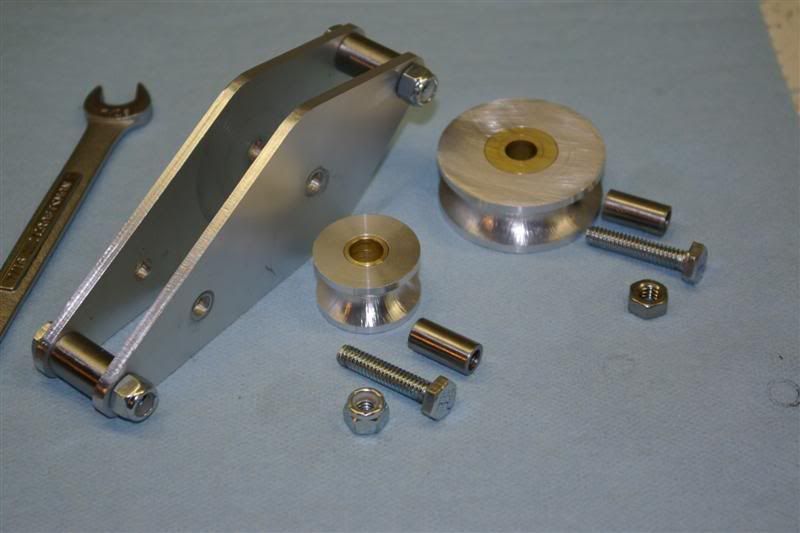 Cont……..