Got a phone call today from my daughter, they had seen an Old English Sheepdog wandering around near the local canal in a very distressed condition.
One guy went to catch it but it tried to bite him so they rang the police.
The police refused to come out because it was classed as a dangerous dog and they can't put them in the back of police cars ?
The dog warden refused to come out as it's weekend but they did say if someone could tell them where it was on Monday they would look into it.
If someone caught it they could take it to Kimberly, 12 miles away and drop it off there.
When asked how they would get it there they admitted that they had no idea and if it wasn't feasible to let it go again.??
Jumped in the Donald with my daughter, SIL and grandson on bike and went looking. Found it after about an hour wandering about with a severely matted coat, half starved and in distress but it wasn't fierce at all, just a big softy really.
Got it sheeted and roped down in the Donald and went home.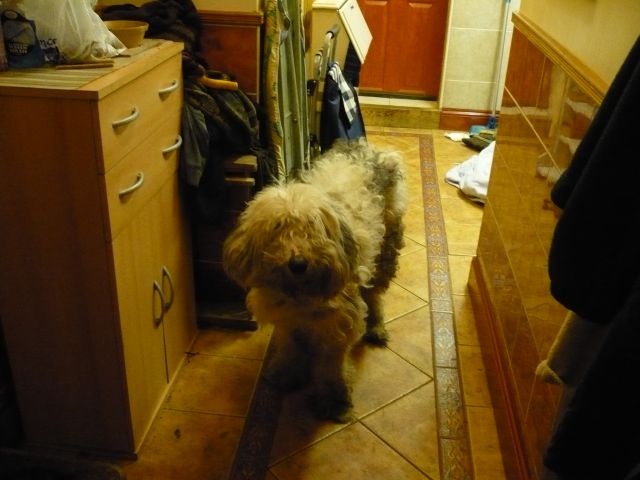 All that wool is just big matted lumps.
This is one paw.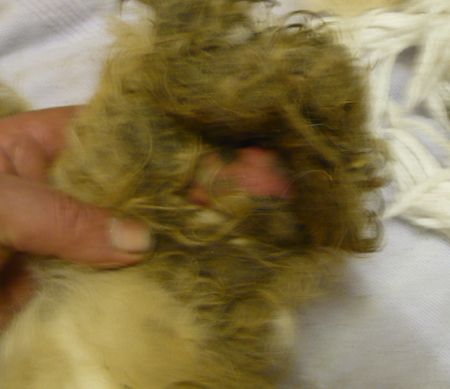 Bit blurry but you get the idea, just solid matted wool with briars and thorns in.
Spent about two hours tonight in the shower room cutting his coat off and got a load done but knocked off for the night and to give him a chance to rest.
Will get the rest done tomorrow, and steam cleaned then to the vets on Monday as he's been in a fight at some stage and has got a ripped ear. Don't know how bad until I have washed him as it's that matted I'm frightened to cut his ear.
He'll be registered with the dog warden on Monday and if not claimed in 7 days he's got a new bed, decided to call him Henry as this is the eighth Old English Sheepdog we have had.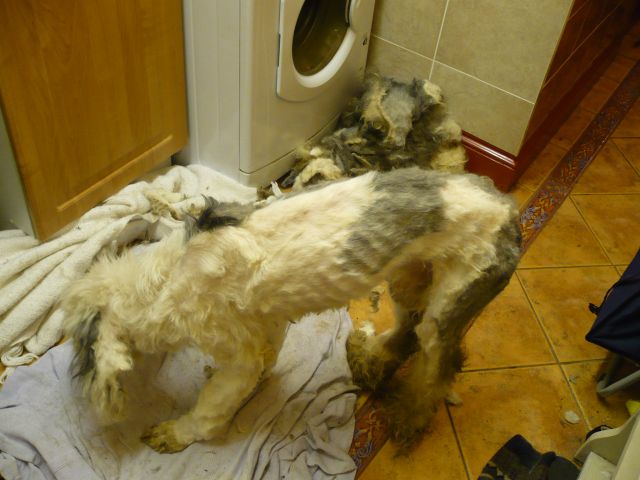 Looking a bit better, that pile of wool in the corner is just off one side. To say he's starving you can feed him dog biscuits one at a time and he takes them so gentle.
If I was starving like him I'd have some buggers hand off...............
.