This is the final part of the 3-axis DRO that I installed on a Millrite knee mill. The first half of the thread, showing the x- and y-axis, is here:
http://bbs.homeshopmachinist.net/showthread.php?t=33062
The Z-axis install was the biggest challenge of all. Again, this is a mill that was designed before DRO's were even imagined, so Burke apparently thought it elegant to design the mill's base as a conical section, sloping away from the Z-axis ways, and tapering inward up toward the turret base. You can see the extent of the curved casting here: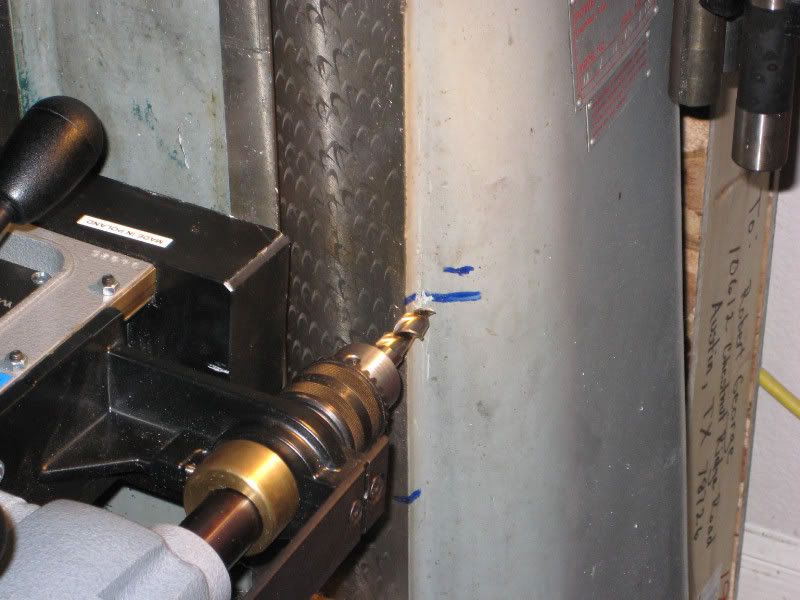 The problem is that you need to mount a 2" wide glass scale flat against the casting somehow. I was hoping to use an endmill in the magnetic drill press and bore/mill a flat on each end of the casting where the scale would mount, but not only was the curve so severe that I couldn't get the endmill started, but when I measured it out, the glass scale was going to sit backwards about 1/4". Considering that the reader head (which is going to travel on the knee) has to be flat and parallel within 4 thou across the entire length (16"), that's just not going to work.
So I ended up scraping a strip on the casting that was flat enough to keep the Z-axis scale within the constraints of the reader head.
A the time, I had been doing a lot of hand scraping, so I started with a fresh scraper blade. But it turned out that scraping vertically, below and behind the mill table, just wasn't going to happen. I had bought a Biax power scraper earlier last Summer, but my few attempts taught me that power scraping was a much different skill than hand scraping: the Biax is like a hand-held jack-hammer, and if the angle of the carbide blade is too shallow, it just skips off the work. If it's too deep, the blade will shatter. But two hours of trying to manually scrape vertically up convinced me that this would be a good time to learn to power scrape, albeit not under the best possible conditions.
In any event, with some perseverance, a lot of Dapra Canode Blue, and a couple of coffee cups of cast iron later, I got a reference plane scraped along the Z-axis like this: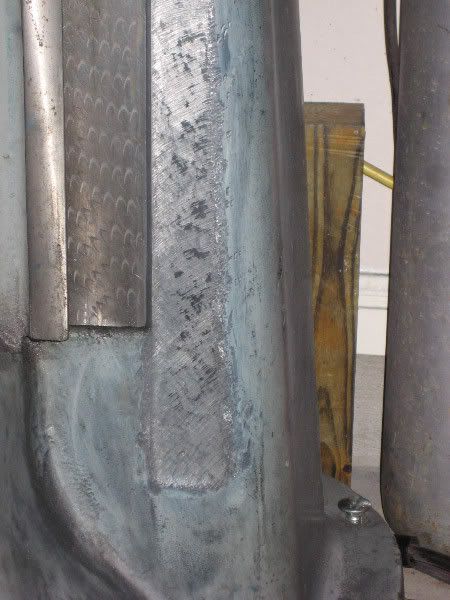 After another 20 hours of so of scraping, I actually started to get some spotting