Well this will upset a few.
Hunting round today looking for my bag of peanuts I put on the bench back in November and spied a plastic box I didn't recognise, blue long and thin.
Inside was one of the cheap £6.99 digital verniers, no idea where it came from as our importer only has the black boxed ones, even rang him to check.
New battery and it works as it should, that makes me about 2,566 of these thing [ approx ] kicking about the place when thinking about the next job kicked in and I decided to modify these to suit.
So ground the jaws right back on the bench grinder, stuck a blob of Stellite on the moving jaw and cleaned it all up with the dremmel.
Result, a pair of 21st century odd leg calipers.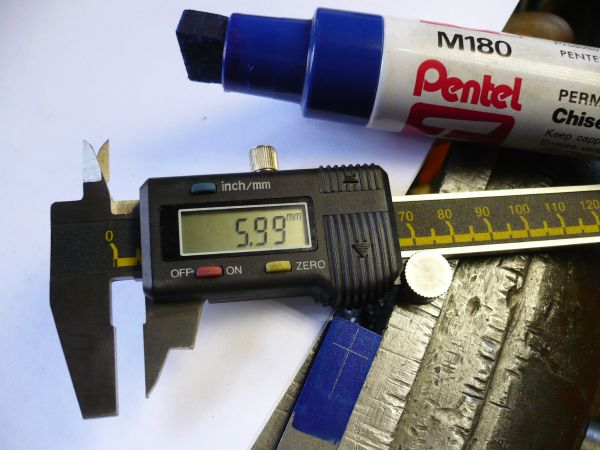 Close, zero off, read off your dimension and scribe along the work, it's just like a hand held vernier hight gauge that vertically challenged
Second tip of the day, Pentel fat blue marker pen instead of marking blue, less mess, goes where needed and impossible to spill and you don't finish up with a blue hampton when you go for a jimmy riddle.
.