Hey Guys -
I could use some tips here. I'm determined to get my paws on this shaper: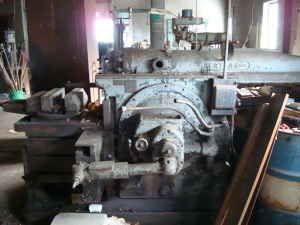 The seller estimates its weight to be 2 tons but he says it's about 9' long and 5' high. I'm guessing it's on the high side of 2 tons. He has no way to load it and I'll be lucky to get my hands on one of those car-carrier trailers.
I'm thinking about using some handyman jacks or just a glorified pry bar to get it up on some skids and then trying to winch it onto the trailer, but I'd love to hear a better way to do it. I'm affraid there is alot that could go wrong with that plan, given the fact that my equipment is a tad undersized for this job. I've also got an engine hoist, but I'm not sure it's up to the job. If neccessary, I suppose I could dissassemble it into large pieces and then use the hoist.
Any ideas/tips/thoughts are welcome! I reckon I'll manage, but I'd like to do it as quickly as possible and with as little damage to the machine as possible