It consists of 3 ½ turns of ¼" OD copper tubing with two stubby ends and a ¾" ID.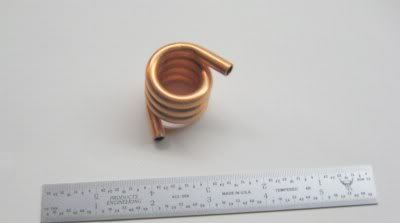 Also the tubing must not be kinked or deformed from its round shape.
I am getting ready to deliver my first batch of these coils. Here is the story behind them. About a month ago I got a phone call from a friend who was making these parts for a company that we both have done work for in the past. He tells me that he hasn't been feeling well and would I take over the job and the next time he is in the shop we will give me a call to come over and he will show me his technique for making them.
At the time I didn't ask him any details. Having also worked with this company and knowing that they use lots of 1/8" tubing I just assumed that is what he was using. A couple weeks go by and I didn't hear from my friend but I get a call from the purchasing agent of the company and wanting to know if I can make the part. Not having seen it yet I asked for a drawing.
A few days latter I get the drawing and a sample, first thought is OMG how am I going to make this. So it's time I call up by friend to find out his procedure. His wife answers the phone and tells me that he
had just died the day before.
This was a shock I have know him for
over 20 years
and the worst thing he ever complained about was having a cold. Turned out he had a fast growing form of pancreatic cancer.
But now I have an order for 200 of these little gems and the company is becoming panicked because there stock is running low. Needless to say my first attempts were complete disasters. What would you have done?