Knowing bugger all about this ..and not willing to spend £100 plus each for new injectors ...or £10 each for so called refurbished (cleaned) injectors
i intend to make a vessel ...to test fuel injectors ...one at a time .
I'm more interested weather i can clean them with ultra sonic tank whilst pulsing them with DC and
stop them dripping
, than the spray pattern ..sinse my car runs on LPG not petrol.
so have a look at this diagram ...it wont necessarily contain petrol ..maybe kero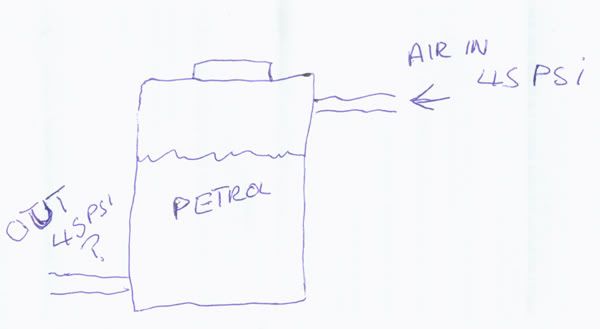 all i have is "dry air gauges" so cant measure the liquid pressure ..
1...will the air pressure multiply or decrease the hydraulic pressure
2 can i expect around about 45 psi out of liquid pressure to the 45 psi of air ..
3,if not what air pressure into ...a vessel.........(you can make up the size of vesel) ..will be required to get 45 psi out the other end.
BEAR IN MIND WHEN ANSWERING ...
that my supplies are limited to max of 3 inch or there abouts diameter thick walled pipe for the vessel....and max air pressure I'm willing to give to it is 90 psi
all the best.markj