I brake for garage sales.
On the way back from my early afternoon errands today, I stopped at a small estate sale that had been running since early Friday morning.
This item caught my eye - a really clean full suspension two drawer legal file cabinet with a full set of Pendaflex folders inside.
As I was testing the drawer slides, the upper drawer jammed a bit because some file folders had become dislodged. To make sure the drawer worked smoothly, I pulled it all the way out, and saw something way back behind the last file - A PILE OF MONEY.
Foreign currency, to be sure, but gleaming out from the bottom of the pile - a ten dollar gold certificate:
Now I don't believe I've ever actually seen one of these things before, but it was unmistakably big and cool: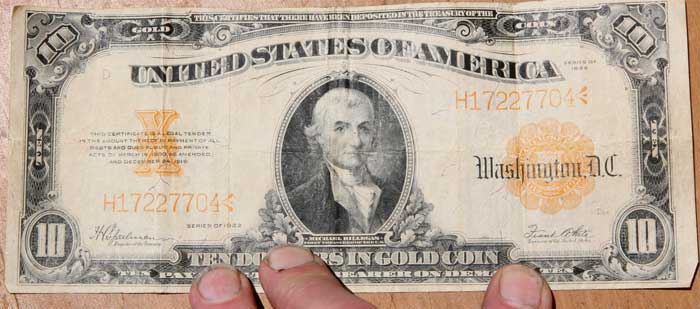 I called the sellers over to see my find, and were THEY surprised! They'd volunteered to help their friend through the ordeal of dealing with his deceased father's estate and had spent a lot of time cleaning out each file folder and looking for family papers. Although they are about my age the couple selling the stuff had no idea what such a thing was, so I told them to be sure to get that bill checked out because it might be worth more than all the other stuff in the garage.
Here's my reward - a nice free file cabinet: