Decided to make some eccentric clamps to match der operator.
Got a job in from a well know aero engine maker who wishes to remain anonymous but has RR in the name.
Three bars with pegs to go into holes that act like a simple 3 jaw chuck to hold a turbine blade in the crack detection tank, nothing critical, no flight safety crap and you can put any non ferrous metal into these tanks.
However this anonymous company decided they need these bars making out of 30shïtfacedrockhardtoolcrunchy stainless steel.
Unfortunately this grade is only sold in sheared strip and not cold rolled with the result that [a] it's not flat, [b] the edges are rounded where it's been sheared and [c] it's the most terrible material known to man or beast and [d] it's not magnetic.
So they want the bottom face machined flat, all over.
No good clamping to the bed and doing it is stages as when the claps are released it will still be bent, soooooo I need to hold it by the edges whilst I mill the whole side in one go.
Now I have seen these Mighty Bite clamps before in pictures but never in the flesh, looked them up in MSC J&L and had to lean on the battery charger to get some resuscitation back into the circuit, [ damn Lucas pacemakers ]
Seventy freaking nine pounds each ????????????????? leastways I think each as there is no picture.
Soooooooooo, raid the scrap box and mill 4 long tee nuts, tap for one Allen screw and one grub screw. Bit one done
Lob a chunk of 22mm bar [ 7/8" to the metrically impaired ] in the chuck with three bits of banding under one jaw to throw it off centre, drill and ream to 5/8" to fit head of 10mm Allen screw, loctite and whack onto head of screw with large bopper. Bit two done.
Find long U bolt nut off 32 tonne trailer, bore 22mm and part off 4 pieces. Bit 3 done.
All bits present and correct on duty.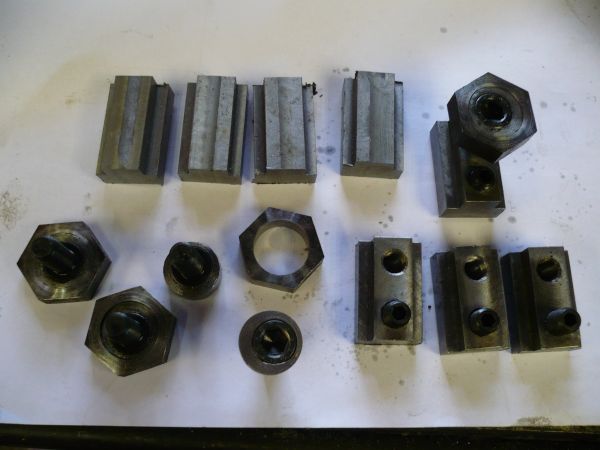 Did some spare Tee nuts at the same time.
Shot of the setup.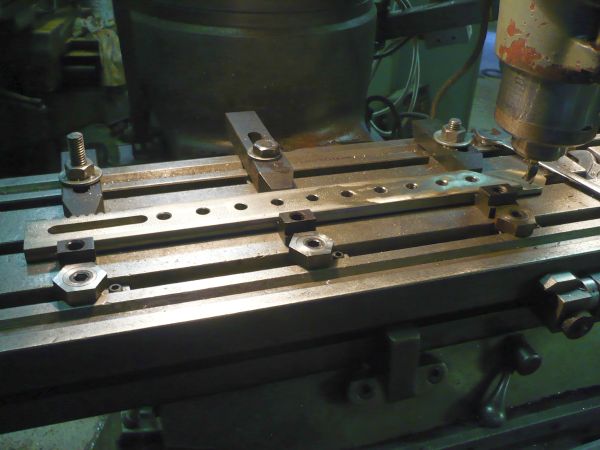 Three fixed fingers at the rear, eccentric clamps at the front with some normal tee nuts to act as spacers and be lower than the top face.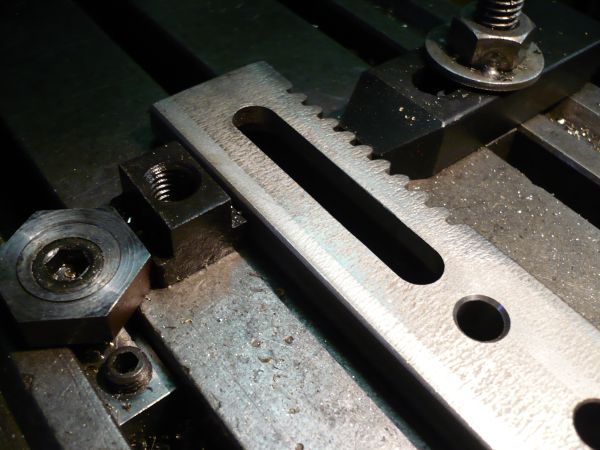 Close up of the clamp, you place the clamp, nip the grub screw to hold the tee nut into position then wind the Allen screw round and the eccentric forces the hexagon piece against the work.
Doesn't need to be hexagon, could be square the main bit is the eccentric action.
.