Originally posted by Evan
The 4th letter is the
chipbreaker
designation. CNM
P
negative rake inserts normally come with a 5° positive chipbreaker. That particular insert has a 10° positive A.K.A "
double-positive
" chipbreaker: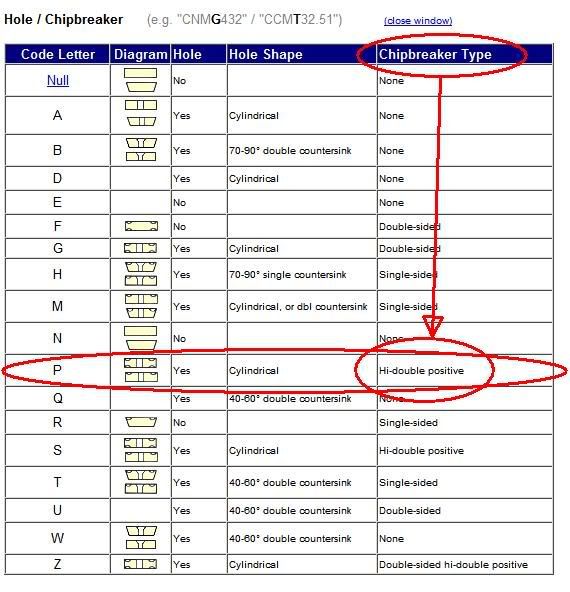 You linked to the Valenite CNMP insert. Here is an explanation of negative rake inserts with positive chipbreakers from the Valenite Tech Engineer, from
http://www.thegallos.com/response.htm
Valenite
From: FirstName LastName, on 3/12/98 4:10 PM:
To: INTERNET[[email protected]]

Hi, I'm with Valenite Cutting Tools, FirstName LastName from Cincinnati Milacron asked me to respond to your request for information.

I understand the challenges the home shop faces with regard to using carbide tooling. The advantages of carbide vs. hss are well documented for large shops and hi production and the same can be said for home shops but cost is a big concern for the hobbiest.

I agree with you in your selection of TPG or ISO positive rake type tooling with respect to rigidity and horsepower limitations however both are single sided inserts which are not the most economical choice. Fortunately a lot of progress has been made in the last few years in the chip groove geometries found on negative inserts (cnmg, tnmg , etc.). These "chipbreakers" can produce positive shear angles in negative rake tooling which reduces tooling pressures and horsepower requirements in a double sided insert. This combination of geometry and economy may be advantageous for the home shop.