Hello,
I just come into a boat load of Corian and other solid surface countertop material. I would like to cut shapes out of this material for some craft projects but most of them will not have holes in the area to clamp it to the table. I have tried to use double stick tape but some times it works and some times it lets go.
I could overlay this design in my CAD software and it will show me which ones to use and which ones will be outside the cutter path. I can then create cutterpaths based on what I want to cut - slap on the corian, turn on the vacuum, and hit the go button.
Here is my thoughts - an aluminum plate with a bunch of CNC cut o-ring grooves where I can add O-rings where needed and the center will have some type of SAE pipe plug on the others where I don't need them. Before I start out I was hoping to get opinions if this will work. There will be a series of gun-drilled holes to connect the vacuum path at the bottom.
Size of the plate will be 36" x 15" Each of these O-rings will be 1 1/2 or 2" haven't decided on the size yet.
Here is an idea of the overall plate
Here is a close-up of each o-ring groove
The next picture I have shaded an area where I think should be lower (.015) then the surrounding surface so you can build an vacuum chamber.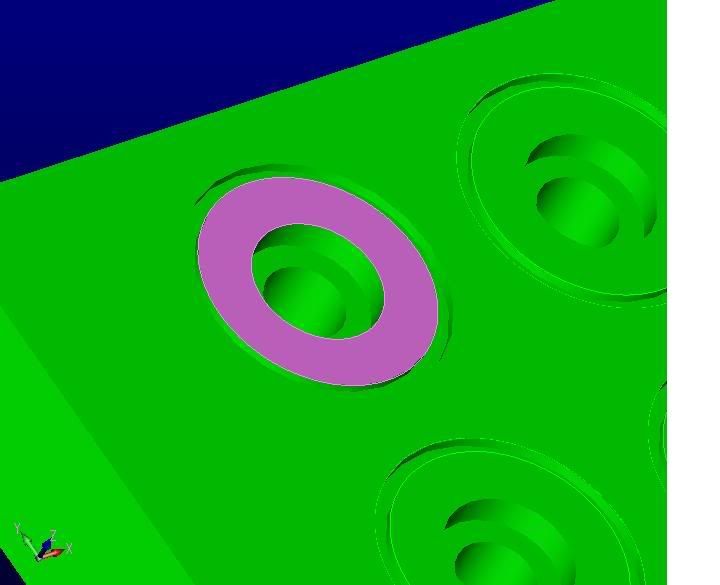 Any idea on how much force let say each 2" o-ring will hold it from moving? I have a vacuum pump that is a commercial one and should be me to around 28" of mercury. Any tips or suggestions would be greatly appreciated. One more thing - I have no idea on compression of o-rings so not sure on how much compression I should design into the o-ring groove. Would thicker O-rings be better?
Thanks,
Jeff