Customer has an older snowblower- I don't know the brand- that has a pair of tracks instead of tires. It's apparently old enough that parts are no longer available for it- assuming they ever were in the first place.
He apparently likes this model, and wants to keep it running. I know the feeling- my lawnmower is older than I am, and still runs great. And surprisingly enough, has yet to kill, maim or disfigure a single operator despite having no blade brake, blade guard, clutch, rock deflector or even any warning labels.
Anyway, one of the track drive cogs broke- not just the shear pin, the hub broke out of the wheel.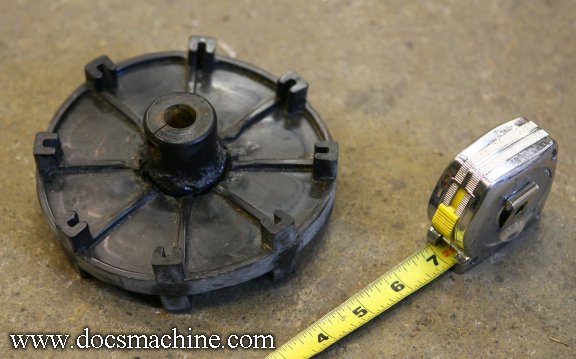 Despite looking pretty much identical to every other track-drive snowblower wheel out there, apparently this fellow couldn't find a replacement. he first tried to "weld" the wheel back together- How, I don't know, possibly with a soldering iron, or maybe just a propane torch and an old screwdriver as a "spreading knife".
The heat badly warped the wheel, and the weld didn't hold anyway. So he wanted an aluminum copy. Five hours later: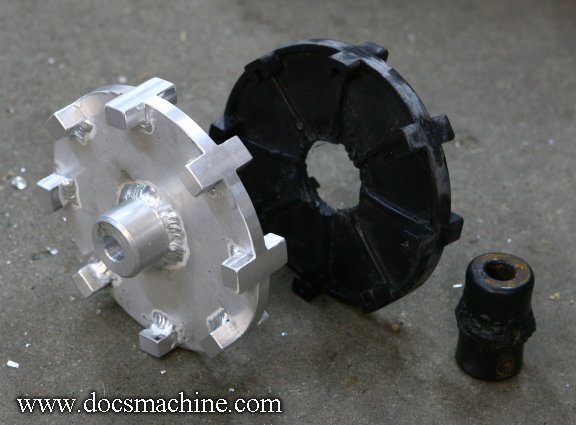 We still need to "fit" it, as I suspect the axle is an oddball metric size, and it still needs to be drilled for the shear pin once I have the spacing and specs. But if the guy can break this one, I'm gonna have to suggest he buy a real plow.
Doc.