Turns out it's an old Atlas. At least that's the name on the machine, I don't know who was the actual manufacturer. Has a Tecumseh engine, and the owner says it's strong & reliable.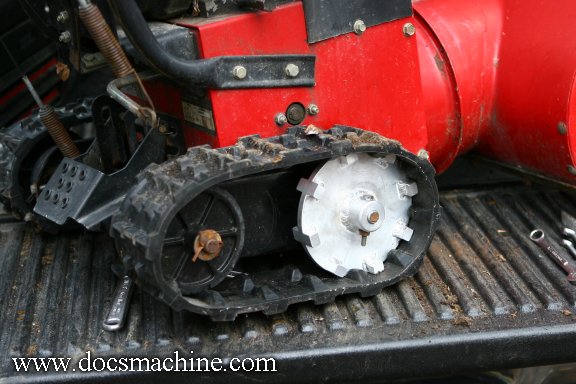 Apparently the original wheel only broke when his... son-in-law, I think? Borrowed it, and tried to clear some ice out of the track with a screwdriver or a prybar or something. That cracked it, and once cracked, it wasn't long 'til it tore all the way out.
I'm disappointed you didn't hog it out of one solid piece.
-I considered it. But the wheel is 6-1/4" nominal OD, so I couldn't slice a coin off a 6" round bar. The local metals supplier could have ordered me some 8" (if I'd bought at least a foot) or, if I wanted plate, some three-inch, since the center hub is a little over 2-1/2".
Glad I didn't, though. I don't have a big enough lathe to seriously hog off that much material, so this method was quite a bit faster.
I used a jigsaw to cut the disc from a hunk of 3/8" 5250, roughly centerpunched the center, drilled it in two steps to 1-1/4" (my biggest conventional drill bit) then bored it the rest of the way by plunging in a 1-1/2" indexible-carbide endmill.
The chunk of 1-1/2" round ended up being a fair press fit with the as-bored hole, so I mashed it in, and welded it. While it was cooling, I set up my rotary table, and spent a good hour just adapting a spare 4-jaw chuck to it. That's one of those "I've been meaning to do that..." type projects, so I finally took the time to do it.
I didn't use a 3-jaw because I didn't have a spare.
Once that was set up, I just ran a 5/8" endmill through to make a 1/2" deep slot every 45 degrees. Then I lopped up an old shear-scrap bar of 5250 that was kind of twisted, and made the lugs. Quick repeat job with some parallels.
Tap 'em in place, weld again, let cool.
Turn the OD to size (or at least my best guess of size- the original was both taco and egg shaped
) and face off the outer edge of the lugs. Drill and ream to 5/8", which was kind of a guess as well.
A little file work to clean up the welds, call the customer.
He brought the blower over this morning, turns out the axle shaft was, in fact, right at 5/8" (though rusty) so all I had to do was final face the center hub for depth (spacing away from the blower body, to align the track) and drill for the drive pin/bolt.
All pretty straightforward, though had I known how the track was made, I'd probably have made the drive lugs wider.
Doc.