This is a paying job, an aluminium ink tray I've just made for a local printer. Being an amateur new to machining etc etc, its taken me far too long to complete, but I've learned a lot along the way.
I've no idea what is a fair number of hours to charge for a job like this, so I guess the question is, how long would a competent 1 or 2 person jobbing machine shop, manual machines only, no CNC, take to turn out a 1 off?
The item is 290mm, nearly 1 foot long, and the trough is a 65mm (2.5") radius down to a depth of 9.6mm (.375")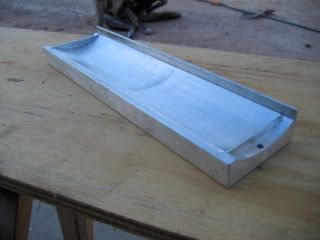 The fin is a separate piece 30mm x 3mm which started off as a piece of 50 x 3 (2" x .125") flat, its held to the body with 5 blind M5 countersunks.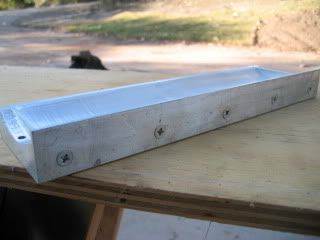 The main part of the body is 79mm x 22mm, (3.125" x .875") and started off as an 80mm x 25mm (1"). There are 2 M5 through threads, one in each end.
My gut feeling/guesstimate is 4 hours, am I somewhere near the mark?