Hi,
I'm working on a desk clock housing, made out of polished aluminum. Here's a picture of the clock face (this is just an experimental test piece, so there are varying levels of carefulness and polish on it):
I want it to be somewhat industrial looking, so my original thought was to have the hour marks be simple 1/8" deep holes in the 1/4" thick face (1/4" diam. for 3, 6, 9 and 12, and 1/8" diam. for the rest). That looks a little too industrial, so my next thought was to glue in or press fit a piece of brass in each hole. You can see that in the hole on the left (barely):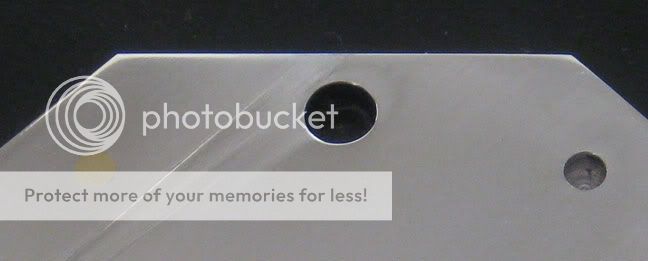 That does not have nearly the contrast I was looking for when polished. I also tried painting the inside of the hole with black enamel (see the middle hole, above), but that seems to emphasize the machining marks (although that did not come through in the pic).
I thought I might leave the brass inserts somewhat proud (protruding), but the side finish on the inserts is a problem. I am somewhat limited by not having a lathe, but it is possible for me to turn down round stock with my mill and rotary table (which is how I made the press fit brass button), but the finish is not good with my first attempts. You can actually see the irregularity in the photo, where the brass insert doesn't quite reach the side of the aluminum hole. I haven't tried mounting the rotary table on its side and milling down the brass stock with the end of the mill, instead of the side. Perhaps that will work better.
There is also the possibility of reaming the holes to the exact diameter of the pre-made brass stock. However, looking at the prices of hand reamers at McMaster-Carr, that seems to be a non-starter at the moment.
So, I'm left with two questions. One, is there a material with a fairly high contrast with polished aluminum, available as rod stock, with characteristics that will allow it to be faced and polished as a single unit with aluminum? Two, any hints on how to reduce the diameter of brass rod with a mill and get a good finish, so I can leave the inserts proud? Unfortunately, buying a lathe is out of the question, at least this year.
-Pete