Two wood burning stoves, one in the house and a big one in the workshop.
Ask any of the UK guys about the workshop one
you have to run past it
The small town I live in is the heart of the UK furniture industry as in chairs and seating. Within a two mile radius of me I know of 38 different factories and I'll bet there are some I don't know of.
They use mainly beech and a bit of maple and all the offcuts are dumped, A skip currently cost £160 just to empty it what with land fill charges so they willingly give the offcuts away. This year one company has taken to delivering two big builders rubbish bags per week provided they get the bags back. This is all small offcuts about 1" to 2" cube, you shovel it like coal, goes well in the house.
Add to this the local, 3 mile away, double glazing warehouse gets their raw product in from Europe with L shaped wooden battens banded round to protect the corners, two sizes 3" x 1 1/2" about 30" long and 4" x 1" about a foot long.
Again these are thrown and I have an arrangement with the foreman that they save me these. Usually pick up once a fortnight at weekends, security know me so no problems with time.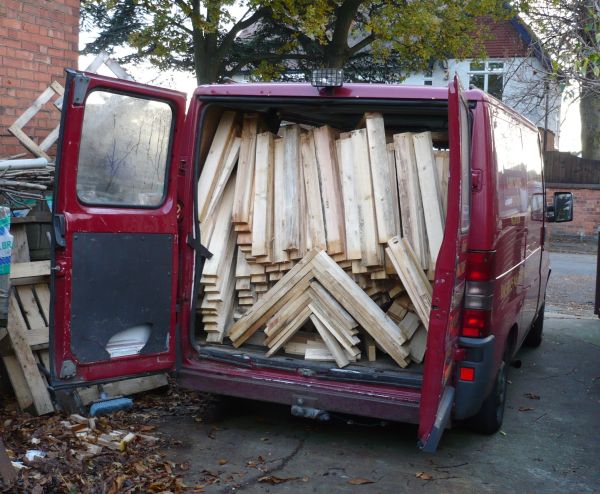 This was this Saturdays run, the van is full, workshop stuff at the back and some of the smaller house stuff at the front where I can get it out the side loading door.
Took about an hour to travel and load this and it will last about the two weeks, any extra gets stacked as a buffer for when they are closed over Christmas.