More as an aside to Evans thread on the indexable cutter which was very well made and also to act as an example to the various people who have posted and said they don't post pictures of their work for fear of being ridiculed.
There is also a running post on round column mills, you know those crap things everyone says are crap and you can't do squat on them [ Wonder why they keep selling them then ? ]
I bought one years ago when there wasn't a choice and with it came a rough and ready face mill that took tools like lathe tools instead of inserts, probably about 3" diameter and usually with incorrectly ground tools
, rough and ready and not a lot of use as supplied.
At the time I was making laser mirror mounts and needed a flat surface with one set of tooling marks for cosmetic reasons which meant a flycutter or face cutter of about 8" diameter so I made one.
Taking one of the insert tools from the original face mill I based it on this as I could get spares easily. No drawings were made, just a sketch.
The indexing head was fitted to the mill drill and the following tool roughed out of a big lump of steel.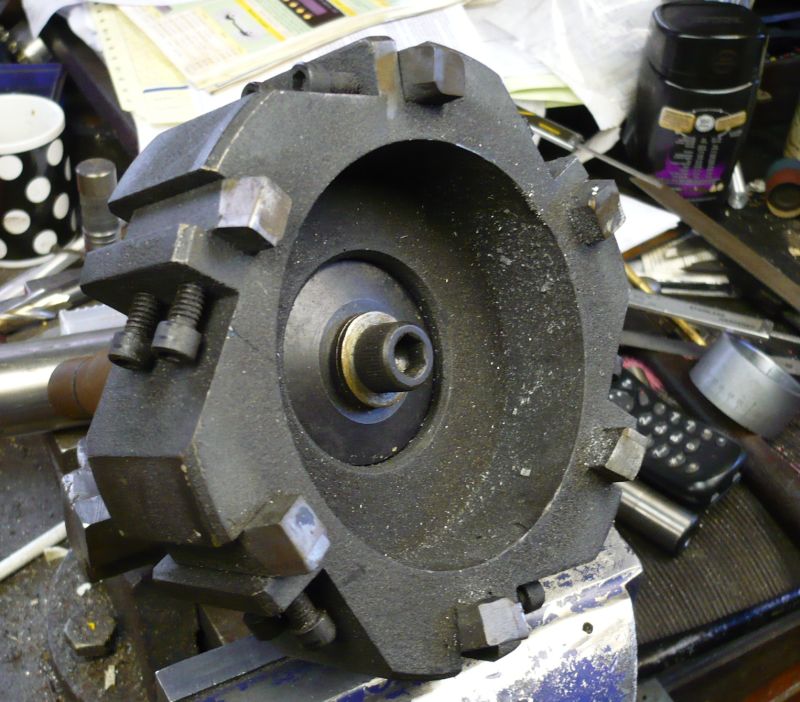 No measurements were taken, it was all fly by the seats of the pants job.
Because all the finish operations were done all at the same setting and indexed round it was deamed near enough.
One cutter was fitted and it's opposite number fitted for balance but raised up so it wouldn't cut and a plate was flycut with the one cutter, then each tool was fitted and lowered to just rub on the plate.
No microns or even thou's were harmed in the making of this, I have no idea what material it was other than boiler plate. I don't even know how hard the concrete floor was the mill was standing on.
The point was it worked, it worked very well and was in use for quite a few years. So for all those people out there that have tools or projects they have made don't be put off that you think you might be ridiculed because you can't work to microns.
.