Well, I have not accomplished much, yet. I did start learning how to scrape and thought I'd fiddle-fart around with some shaper parts. First, though, let me post my new outline of what I'd like to do with the shaper.
Give the condition of the components I have examined and the fact that I don't really
need
a shaper, I think I will make this a long-term, full (ish) restoration project. The following outline is somewhat dependent upon the fact that my shaper is currently hours away, but some of the smaller components I can take with me to school, etc and work on them.
(p.s. I still have not heard any definitive remakrs regarding what some of these parts should be called, so if I've mislabelled something, let me know!)
~ Scrape horizontal dovetails on the compound slide flat and coplanar
~ Scrape the angle section of the dovetails on the compound flat and parallel
~ Scrape ram face flat ****
~ Use the face to spot the base of the compound and scrape base flat
~ Scrape horizontal section of compound base dovetails flat, coplanar and parallel to the base
~ Use compound slide to spot one base dovetail
~ Scrape the other base dovetail flat (this one is tapered for a tapered gib)
~ Use Connelly's "Method no. 1" for scraping the tapered gib (it will give me more scraping practice)
~ Remove ram and scrape horizontal section of dovetails - this must be kept perpindicular to the ram face ****
~ Scrape matching dovetails on machine column being careful to keep these surfaces in the initial alignment (I expect these to have a flat gib - surely a 26" shaper wouldn't have like a 6' long taper gib ...) ****
~ Use these dovetails to spot the angled portion of the ram dovetails
~Scrape horizontal knee dovetails flat and perpindicular to ram/parallel to ram face ****
~Scrape remaining dovetails in similar manner
I'm still not settled in my "plan of attack" and the **** are areas of concern. I feel like there should be a way to clean this process up so I'd be less likely to make a colossal mistake that would result in a huge amount of extra work to correct. I'm not really sure how to
efficiently
keep the table/ram/compound in alignment. Any thoughts, suggestions, etc?
So ... what I have done is scrape the horizontal surface on compound base. It is not finished yet and I will finish it after I scrape the "backside" of it flat so I can keep the two planes parallel to each other. I expect that the back side and ram face will only need a tiny bit of clean up since it isn't a sliding member.
Here is the backside that contacts the face of the ram:
And here is how I held it for scraping: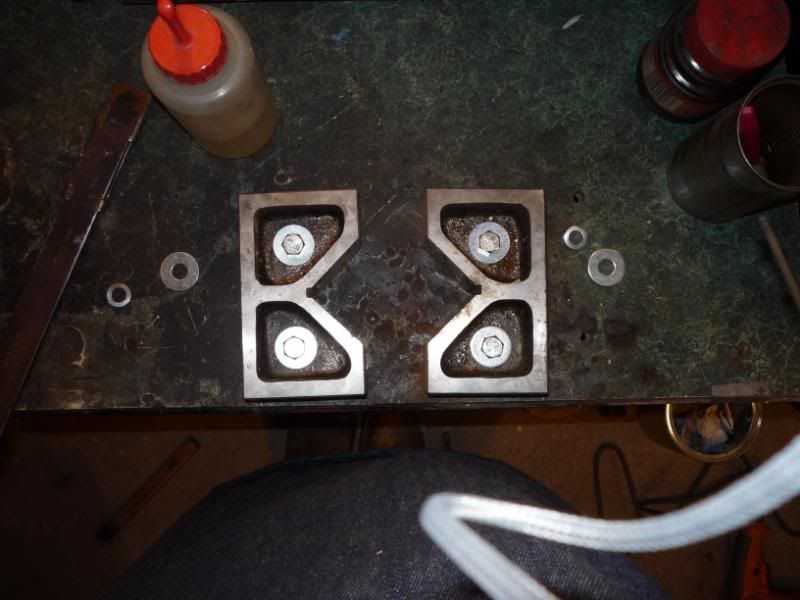 This took a very, very long time! It was out by more than 0.005". If I had had access to my "real" machines, I probably would have done some machining to make it closer to flat. As it was, I did quite a bit of filing and then scraping. Below are some pictures of the progression.
My HSS scraper only needed to be resharpened once, though. I was very pleased with its performance. I kept one side of the blade with a much keener edge than the other so I could rough with one side and then turn the scraper over and finish with the other. (I have not yet finish scraped this piece, but I did on my angle gauge)
The first spotting:
I chickened out on filing anymore because I was affraid of leaving gouges by accident so I started scraping:
Notice that, initially, the surface was very smooth and the blue was heavy on the plate so I get some smearing. This did not concern me since I knew I had a long way to go.