Blasting Box
My homemade blasting box.
It's made from 20mm Shutterply with standerd downlights as lighting for the box and for gloves I used drain pipe joints glued and screwed to the box and rubber glove slipped over the edges of the pipe on the inside.
The box design had a few snags but they are all sorted now.
The main problem was dust on the inside.
To get rid of that I build a water filter recycle system from a motor I scrapped at work ,a bucket half filled with water and some pool pipeing.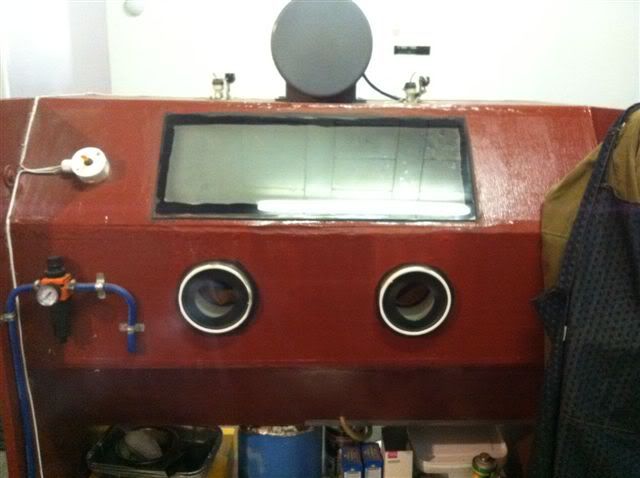 The air used to run fom the box through the water filter into a water catcher and then into the motor and back into the box.
Now I just blow the air into the shop after the motor since this creates a vacuum in the box keeping any dust from popping out of the seams when I start balsting.
I know it's not a good idea to use wood for the box but it is cheap, easy to work with and after 2 years stil no damage from blasting.
The only reason I made it myself is it's cheap and way bigger that store bought boxes( just to give you a idea I'm 1.85m tall and I climbed into the box while building it I could even move around inside)