Well, I cut the thread today and I decided to do an under cut and thread to the shoulder. It worked great and I used the 1.5mm because my pitch gage didn't show daylight in the thread. BTW Tiffie I do have a 1.6 and other odd thread settings on my lathe. Here is a photo after the second pass.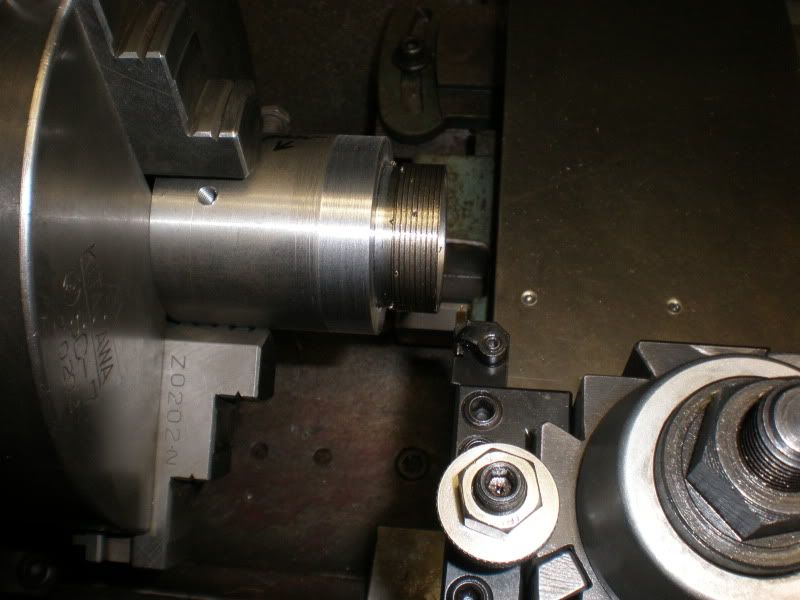 Well, when I got to where I thought it should be I started removing the part and testing. After a few cuts and tries I said, Hmmm. Then I started looking at my thread and the spindle thread,
the spindle is left hand and I cut a right hand. Geez, bummer, bah humbug.
Lets stop and think, I'll turn the thread off and slip it in the spindle. Ahhh, that works just fine thank you.
Man I hate left hand threads. This has happened before, but I didn't get mad and throw things this time. Maybe old age has made me mellow
. I used to keep four of five spare ceramic coffee cups at work because when something went really wrong I would pick the cup up and smash it on the floor. Umm, did I ever tell you about my very bad temper, oh well.
I saved all the figuring that Tiffie and I did and put it in my lathe manual folder and someday I may make a spider that screws in the spindle. Lets see now, I have had the lathe since 1991 or 1992 and have only needed a spider once. Heck, I may die before I use the one I just made.
I keep a folder on every tool I have in the shop. Sometimes I think I keep to many records and files.