Alanganes: Nice project for a good reason. Nice to have something like that you can trot out when asked to justify your shop....or maybe that's just my issue!
Well, the paint's dried so this is what I was up to yesterday. I bought a mag-base mounted LED torch with a gooseneck as a work light for the lathe. The shop lights aren't bad but they don't get into a bore and sometimes you just need more light when something's in shadow. Concept worked quite well but I then got some better torches which became even better when powered of 18650 cells. So I tried bending the clamp so it held the new torch but it just didn't cut it. Also found the mag base lacking if you wanted it on a vertical surface. I had a spare (cheap) mag base but it was an M8 thread instead of M6 so I turned this adapter as a larger version of the original: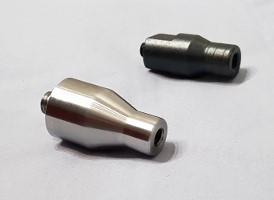 Painted it to match - the screw is just to mask the threads and to be something to hold it by when spraying.
These are the original parts: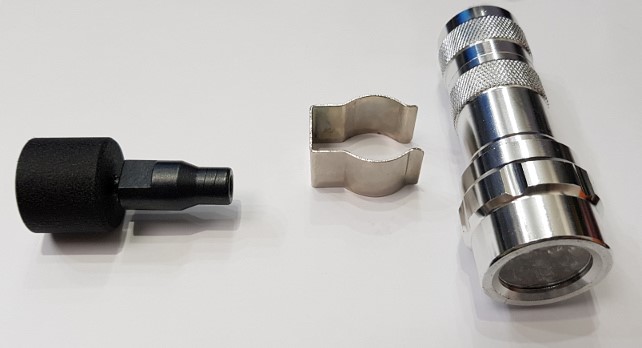 And this is my new upgraded version. Lapped the base of the mag base as it wasn't quite flat. Shiney-smooth may not be ideal but I didn't go that far and more contact area seems to be better than it was previously.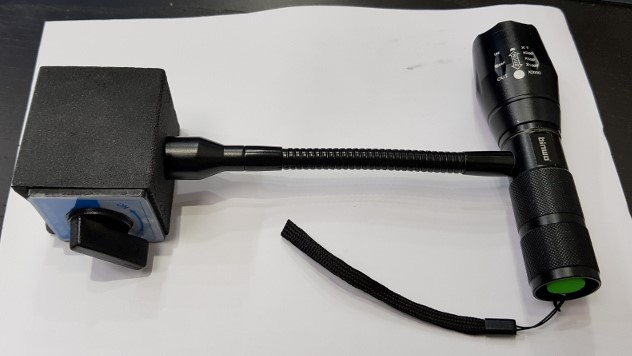 Just about got away with putting a 12mm spotface on the torch and then tapping the hole M6. There might have been as much as a whole thread's worth of meat left to tap - this was more seat-of-the-pants than thought out and planned - but it seems to be enough to hold it and some Loctite 638 seemed to do a nice job of locking the stud into the torch (not into the gooseneck). Wasn't sure it would set with only one thread but it's gone off like rock. If I were doing it again, I'd only put a narrow flat on for the gooseneck to seat against rather than a full spotface - wouldn't look quite as nice but there's be more threads to hold the stud securely.