I'd quite like the option of a right-biased parting insert to reduce the pip on the part cut off....but they are all either ludicrous money (for my budget) or you can buy the tool but not the inserts.
Upgraded my shop whiteboard the other day. Thought that a A3 board would be plenty big enough compared to the bits of A4 paper I was using. Didn't account for larger pens, magnetic eraser etc. Bought myself a 900x600 board from Costco to replace it....and a set of three spirit levels (that I'd resisted last time) just fell into my trolley. Well, obviously I was going to need them to hang the new board!
Decided to give the smaller one to my son....despite my trepidation that he'd draw over anything within a fallout area of the board! He wanted to stand it up so he could write messages on it so I knocked this together: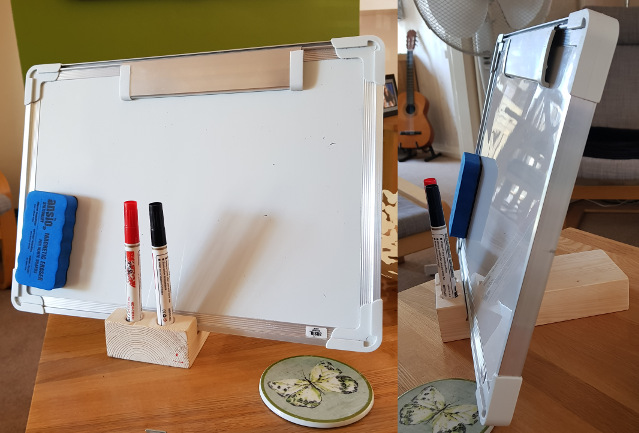 I've since taken off the pen holder at the top - no use unless it's hanging on a wall and it would have tipped forward if that side were put in the slot.