Saw a post elsewhere where someone had used a DIP switch (micro SPST switch) to add an on/off switch to a digital caliper. The size of the switch had been the stumbling block to my idle machinations so I hit eBay and set at it. Just in case any of you haven't used import scales, the battery life is such that for occasional use items, unless you remove the battery you'll be replacing it next time you use it. So it is with my height gauge. I removed the data out port which was an odd 3-pin barrel jack and never going to be used anyway. That gave me the space to mount the body of the switch (nominally 10 x 4 x 5.5mm) internally. "Nicely" held down with hot-glue and the wires kept clear of the buttons in a similar fashion.
I broke the trace to the positive side of the battery as it was a small, accessible single trace unlike the negative side which had more than one connection (one hidden under the terminal) and soldered my two wires between the battery and a nice convenient pad under an oscillator crystal (I believe but unimportant) that was directly connected to the positive.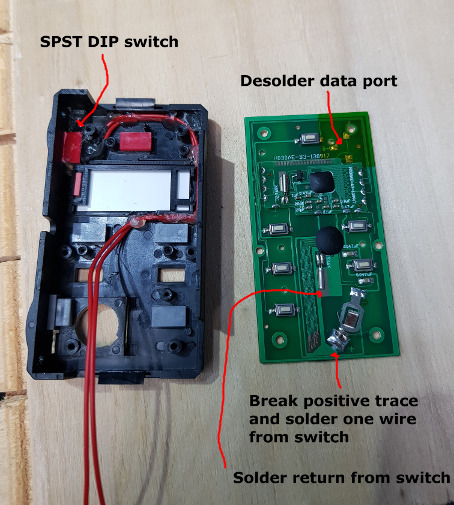 Button it all back up again and I can now switch the thing off without having to remove the battery without losing it.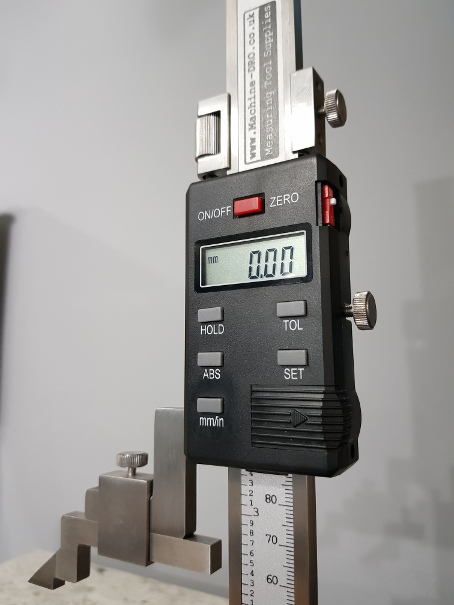 Would I recommend this? Nope, definitely not. I'm happy with the result but
A lot of things (like calipers) won't have the room this did
Really fiddly
Huge opportunity to destroy it
Display on a rubber touch-strip and not permanently attached to the board makes it easy to damage or lose parts
When not connected to the scale, the display blinks off for a second every so often, making you think you've wrecked it
I'm thinking that for other things (mainly a micrometer I have) I might try to replace the battery with a 3D printed part that includes the battery and a switch so there's far less chance of turning it into a paperweight!