Finished the waterslide setup.....'cos obviously I don't have 'real' work I really ought to be getting on with!
Used the HSS internal threading tool (now with correct relief ground) and threaded away from the chuck. Very gung-ho with the thread spec being nominally M20x2.0 but not threaded to full depth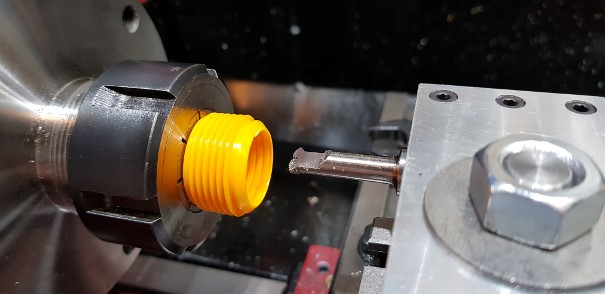 Aluminium insert with same M20x2 thread on the outside - cut deep enough (and filed a bit) so that it fit the plastic thread. M16 tapped internally and external threads turned off the plastic part to make it look less yee-haw. Washers fitted and it's actually water-tight under pressure!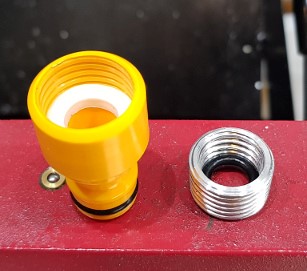 Fully assembled on the back of the slide. Plastic nipple threaded with an M16 die - fairly tricky to turn by hand....and by hand, I mean the 1½" die stock I ordered hasn't turned up yet!
Drilled through the slide as per the instructions and tested it. If I was aiming to give my son an enema it would be perfect....so back to the drawing board.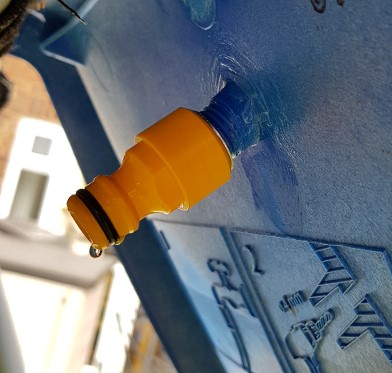 There wasn't enough plastic to shape the flow - I did try. So I was going to make a brass nozzle...until I realised that not only was stainless cheaper, but I had some of the right size!
M10 thread on the outside, drilled and reamed 6mm and the head turned down to 8mm to fit the hole. I suppose you'd call it broaching....but thumping a hacked-off bit of 7/32 Allen key into the end until it was good enough to turn it seems to lack the sophistication of an expensive broaching tool. Worked though.
Slot cut in the end at 20°. Started with a slitting saw but couldn't hold it well enough and still get the saw in so finished it with a hack saw. The length of it serves to strengthen the plastic nipple on the back of the slide and also seals the holes in said nipple where a drill bit unscrewed from a Dremel chuck and pierced it.