Evan posted a while back about turning a sprocket with cermets.
Originally posted by Evan
I may have a similar application. I've been fooling around with chainsaw sprockets, trying to modify a 404 rim sprocket to fit lo-pro chain (the only alternative is a spur sprocket that costs $50 and is only available from one source).
The mod is pretty simple -- just take a 404 rim with a 1.521" OD, and turn it down to 1.435". Problem is, like Evan's bike sprocket, chainsaw sprockets are harder than heck, and there's an interrupted cut.
The rim spins on the saw at upwards of 13,000 rpm, so the mod does have to be done with some precision, held tightly on a snug fitting mandrel as it is machined.
End view of rim mounted on lathe mandrel.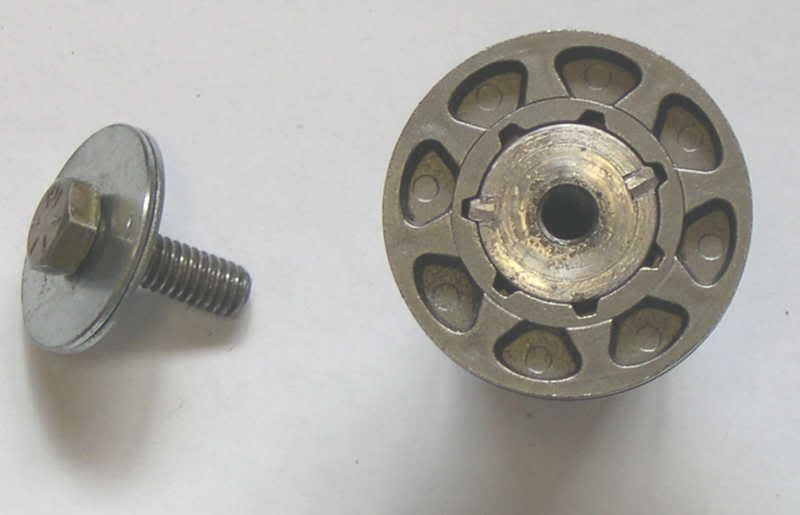 Side view, you can glimpse the spokes of the sprocket that result in an interrupted cut.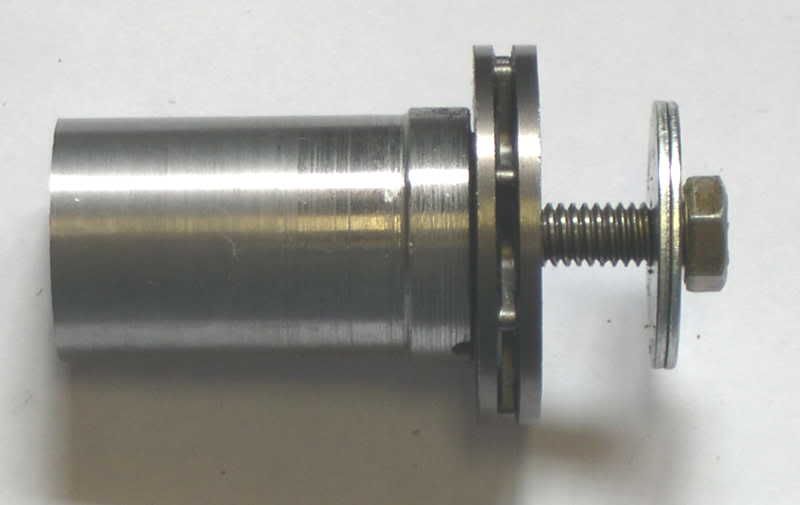 On the right is a 404 rim that I turned down from 1.521" OD to 1.435" to fit lo-pro chain. I used a carbide TNMG bit and it did the job, but ...... it didn't like it. It was VERY difficult to cut, especially the interrupted cut. The whole lathe shook and I was afraid something was going to break. The bit was chewed up a little. Diameter control is hit and miss because of the degrading bit, plus the lathe itself flexing due to the extremely tough cut.
Despite the machining problem, the rim itself seems to do the job on the chainsaw. The 404 rims can be bought for $5 vs. $50 for the special spur sprocket.
One rim will typically last me a year, so if I were only making these for myself, I wouldn't mind burning up a TNMG bit on every rim -- assuming my lathe doesn't get destroyed in the process. However, some of my chainsaw buddies have expressed an interest, and I'd like to oblige them if I can do so without spending a lot of money. For example, I'd be willing to try a few cermet bits, which would be handy to have on hand, anyway.
Before we start talking about alternative methods like grinding, any suggestions on a particular cermet to try? I've got a CNMG toolholder, but might be willing to spring for another style of holder.
Alternative methods -- this job might be better done on a tool and cutter grinder, but I don't have one, and it's not a paying job, so outsourcing isn't an option.
A tool post grinder would also work, but it would be very slow, and no one likes to use a tool post grinder on their pet lathe. Nor do I have a "real" tool post grinder. Occasionally I have used a die grinder clamped to the lathe toolpost. It worked, as long as I took very light passes.
I've tried annealing a rim before machining, but so far I've only been able to partially anneal it. I only went up to 1680 degrees F -- I'll try one more time at around 1800. Even if I succeed in annealing the rim, then I still have to figure out how to harden and temper it after machining, and I have no idea what the material is or what the temper should be.