From one side of the shop to the other, that is. Some might remember my shop in disarray: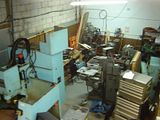 I had a little time and decided to rearrange, which meant I had to slide the VMC back about 10 feet into the corner. Of course, it's like one of those puzzles where you have to slide the squares around to get them in order... I wish I had stop-motion pics of how many times I had to rearrange. Anyway, the results: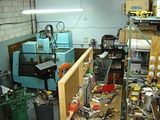 This machine is pretty heavy and had a narrow footprint. In fact, it's something like 6000 pounds and is 22" wide where it sits on the floor. This is typical for bed mills.
Many bed mills have the bottom part of the enclosure/chip pan made of sheet metal bolted onto the central frame, but Hurco didn't do it that way. The floor of the chip pan is cast as part of the central frame, and is not removable (the sides are sheet metal and can easily be removed). Were it removable, access to the central frame would be a piece of cake and I'd have considered rol-a-lifts or something like that.
I used rollers to move it, made of 1/2" rod. Of course, the bottom of the machine is irregularly shaped so rollers can't be directly used. Instead, I used two 4x4's under the machine to make a track for the rollers. I was concerned about the rollers sinking into the 4x4's so I attached a piece of 1/8" steel plate to the bottom of the 4x4's. So, I had good contact on the machine from the wood, and good rolling from the steel plates!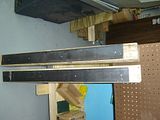 I used between 5 and 7 rollers per side, depending on where the rollers were. One side of the machine is heavier (has the toolchanger), and I kept more rollers in play there.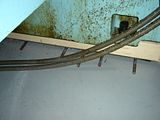 I levered the machine along about 1/2" at a time, checking to make sure the rollers were tracking well after each 4" or so. It got a little boring, which is what I was hoping for! The floor is not nearly as level as it looks, so I was pushing uphill for the last 4 feet or so. Still, it went very easily, much more easily that I had expected. I had a bit of a time putting new rollers under as I went along, I should have made the steel continuous to the end of the wood and beveled the steel's edges. I ended up having to pry up the end of the 4x4's to insert the new rollers. Not too much trouble, in the end.
Steering by angling the rollers worked well, almost too well. I zigzagged quite a bit, what with the slope and my errant steering. At the end I found that I could lever the machine sideways about as easily as forwards, so that's how I straightened it out.