Bear with me this could take a week to do from start to finish as will be explained in the post but I hope to show it with pictures and text.
Got a job in last week to do some short shafts with an involute spline on the end, even got a drawing that told me the OD, how many splines and how long- wow - but nothing else.
0.650" OD, 0.875" long and 12 splines.
Involute splines are just gears but only half the depth and usually have a 30 degree pressure angle and occasionally 25 degrees.
Because of this gear calculations work the same - to an extent.
splines are usually denoted by both sizes of the make up, like 16/32 DP.
This means the teeth are 16DP but the depth is equal to 32 DP
To calculate the DP you take the number of teeth, add one and divide it by the outer diameter, for a normal gear it's number of teeth plus 2 and divide. splines are plus 1 because the depth is half of a normal gear.
So in out case 12 + 1 = 13 / 0.650 =20 DP so this is a 20/40 DP spline.
Run these figures thru the gear generator and we get this.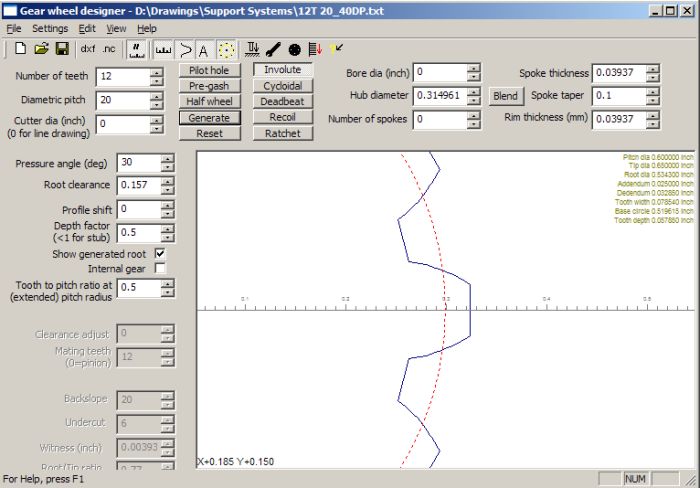 Note 12 teeth, 20DP, and the important bit the depth factor has been entered as .5 to allow for the depth of a 40DP spline / gear.
This then gives us a true involute of the complete spline which can be saved as a DXF file.
Once this is brought into CAD and zoomed in you can draw two straight lines, one from the root of the tooth to halfway up the involute and another from there to the outer tip.
Now if two new lines are drawn midway on each line and at 90 degrees to the existing lines they will converge on the centre of a circle that passes thru all three points, standard geometry 101.
Draw a circle to check and repeat on the other side.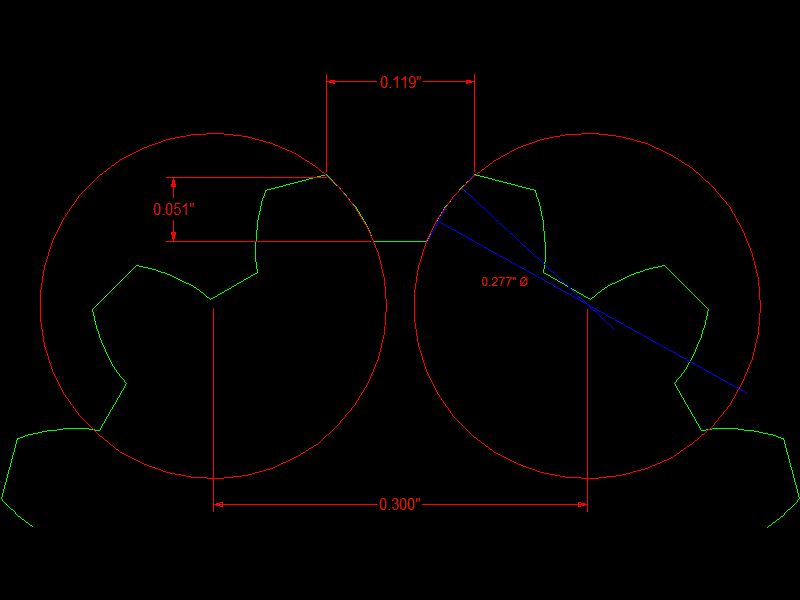 This gives us four important pieces of information to make a cutter, the size of the circles, 0.277" and the distance apart 0.300", the width of the gear cutter blank at 0.119" and the depth the buttons need to be infed, 0.051"
Next job is to make what is usually termed a button cutter.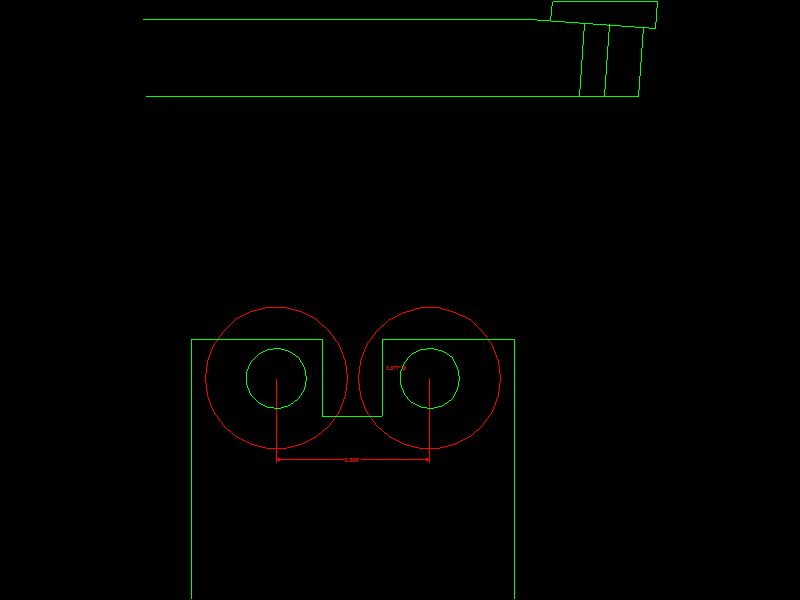 Just a piece of flat bar with two holes drilled in at 0.300" centres and tilted at 5 to 7 degrees to accept two top hat buttons made of Silver steel or drill rod , hardened and tempered to light straw for cutting steel.
These are then surface ground on the top face to sharpen them and give a cutting angle.
This button tool is used to prepare the cutter blank, more of which, with pics in a later post.
.