I have had my Unimat DB-200 for over 40 years now and I find that the ball bearings for the pulleys are becoming more and more problematic. At least, I do not recall having this difficulty when it was new.
First, let me describe the way the pulleys are mounted. Here is a sketch (not to scale).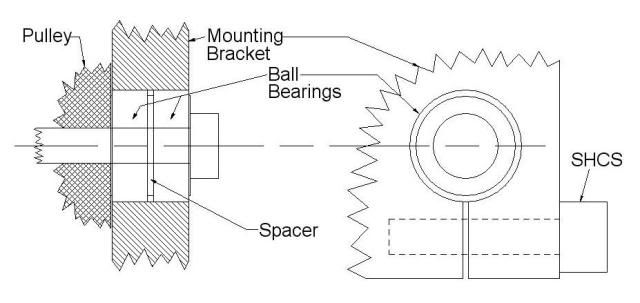 As you can see, there are two standard, non sealed, radial ball bearings with a 1mm thick spacer between them. They measure 19mm OD, 6 mm ID and 6mm thick, nominal measurements. They are marked, "HJ 626.635 FAG GERMANY" They and the pulley itself are secured on the shaft with a simple washer and nut. The OD of the BBs is clamped in the bracket via on the OD only via the slit and SHCS. There is no radial restraint other than friction. So, the clamping force is directed around the OD and tends to squeeze the bearings.
What is happening is the bearings are binding when the SHCS is tightened. It has reached the point where, when even the slightest clamping force is applied, the bearings start to drag. This happens even when that force is too small an amount to actually hold them in place. Cleaning and re-lubricating the bearings seems to have no effect.
I can not see any other explanation for this drag, except for a compression of the outer races which destroys the clearance in the bearings and causes drag.
What I would like to do is replace the bearings with better quality units that would not be subject to such compressive problems. Perhaps a tapered roller bearing in the same size? Or what? Any suggestions would be greatly appreciated.