I nearly posted this in the thread on indexing but decided it was different enough for it's own post.
On those motors I do I have to modify the mounting flanges to fit non standard hydraulic pumps, simple job, each of the 4 holes has to be slotted.
Originally I did them on the CNC but it spends a lot of it's time tied up on more exotic jobs so It did them manually as there aren't that many per month.
Bolt to the bed of the POS Bridgy using two location dowels in the stator slots, pick the hole up and slot, release the bolt, spin to the next stator slots, fasten, and mill that slot.
Rinse and repeat two more times, then change the flange.
Now the quantity is getting bigger, 53 this month so far and 43 advanced orders for July I decided to mount a rotary table on the POS so I only have to bolt it down once.
Advertised on the Free Home workshop advert site for a 8" or 10" rotary table, got an email of Circlip pointing me to an Ebay auction but by the time I has seen the email the auction had ended, no sweat it was down in south Wales anyway, too far to go.
So decided to look on ebay and spotted this.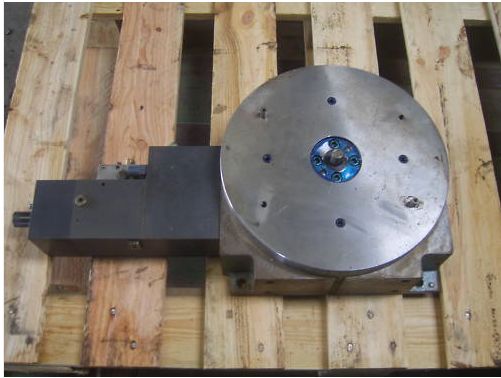 10" air operated table with 4 positions, so bought it and collected it over the weekend.
Took the base off to have a look because usually these are 12 or 24 positions and you fit a mask for the number of positions you want.
Sure enough, 4 position mask fitted over a 24 position ratchet plate.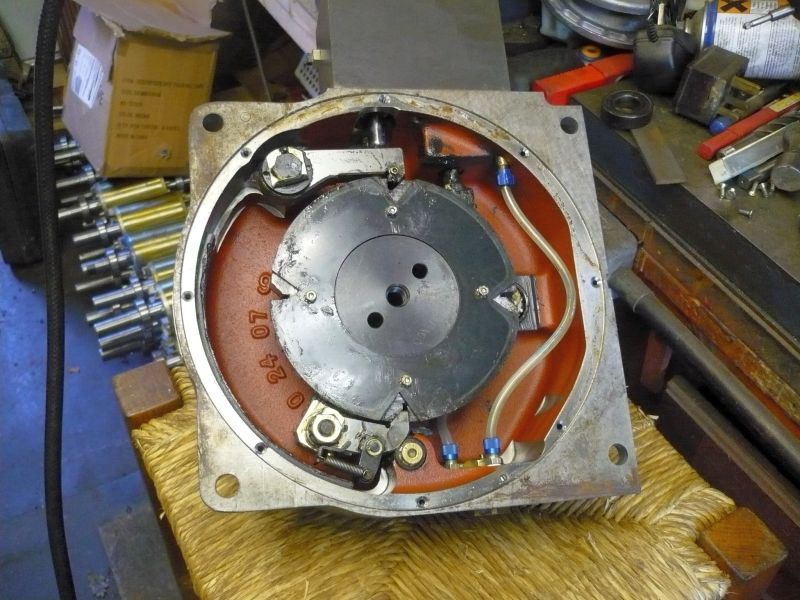 In very good condition, hardly looks used,
So make a quick mounting plate to accept both sizes of flange and go for it.
http://www.youtube.com/watch?v=jmrmD3iCNOk
Wow Wee, 38 seconds to do 4 slots, more time down the pub now
Seriously this has really speeded the job up, took details of the 4 position mask and will get the laser cutters to do me a 6 and 8 position one for other jobs that may appear.
Got it all setup about 11:00 am today, all 53 flanges done, dusted and packed in boxes by 4:15 this afternoon.
.