One of our sons has a neuro-muscular condition that limits his mobility. He can walk and get around on his own, but his muscles tire, weaken, and hurt before very long. When we go out to a museum or someplace similar that requires a lot of walking, he uses a wheelchair, but even propelling himself in that wears him out. And of course the wheelchair is not very good once you get off of reasonably hard, flat surfaces.
So one of the things I've been working on is an electric scooter for him to to get around on. Yeah you can buy them, but no 11 year old wants to cruise around on an "old lady scooter" (his words...). Plus most of them are heavy/bulky and don't do so well off of hard surfaces. We finally got to do some extended road trials yesterday:
A pic of it: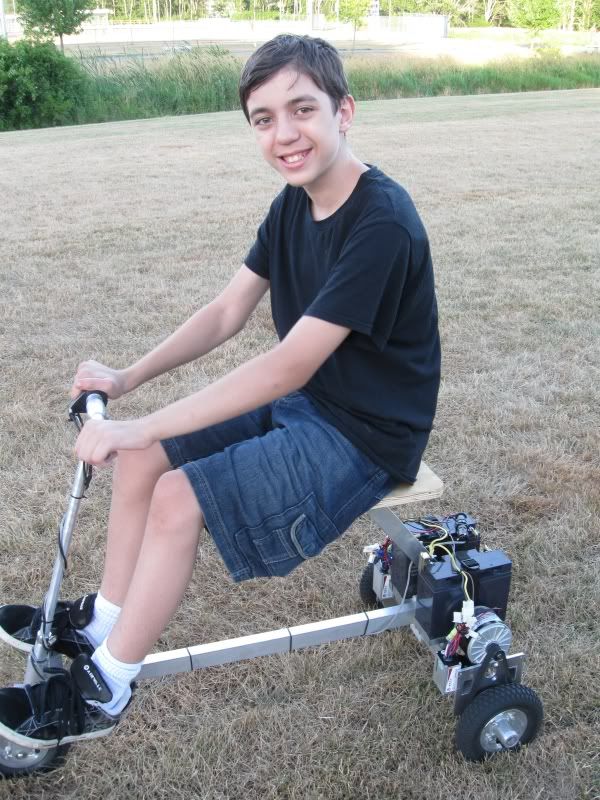 And a couple of (sorta large) videos: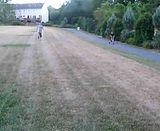 Not bad for a first outing. Still needs some refinement (like brakes...) but it went great even on the grass. It will easily negotiate most of the trails that we walk down to go fishing.
This is still "prototype" stage, but am pretty happy with the result. It breaks down into smaller pieces without tools for getting into and out of cars and such. Going to invest some bucks for a much lighter battery pack that has equal or better capacity than the two sealed lead-acid bricks that are on there now. They near double the weight of the scooter.
Of course he also wants a built-in IPOD dock, and a winter camo paint job.
If we get any dry weather over the weekend I'm going to strap the GPS to it for speed and distance/charge tests.
It is hard to convey how thrilled he is with this thing. He just zipped back and forth across the park for over an hour, a big stupid grin on his face. Tooling along like that must be a great feeling for a kid who never was able to even ride a bike.
I can post some better pics of the scooter and how it breaks down when I get back out to work on it some more.
Thought some of you might find this interesting.
-Al