I just made a little tool (the steel ring containing pins) to finish disassembly of a high speed Van Norman head. I came in to eat lunch and thought that I would share the 1/2 days activity and prod you all for updates on your own projects.
Click for larger photo.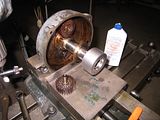 So, what do you have going on today?
rock~