Just picked up a used mike for cheap and need a little help.
It's a Mitutoyo 0-1", No. 293-832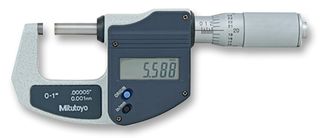 The digital readout can be zeroed and is right on, but the thimble is 0.025" off to the negative (ie. when the thimble reads 0.000, I still have a 0.025" gap at the anvil). I really hope the U-frame is not sprung.
I do not have the instruction manual or the little wrench that usually comes with a mike and my Google-fu must be lacking because I can't find a manual anywhere on the Intertoobs.
Does anyone have a manual or know how I can zero the thimble?