Been working with Art Fenerty of Mach3 fame on his new gear-cutting program.
Basically brought about because he wanted to do clock gears and then it got all out of hand with eccentric gears and all that artistic crap.
Link to the site at
www.gearotic.com
there is a demo copy but the tutorials are worth watching.
Anyway I wanted to get the program back to making mechanically perfect gears and bring in some ideas. Most of the cutting is for routers making thin gears with a vertical spindle but there is an option for doing spur and helicals travelling across the face.
Now for the good bit even though CNC is needed the gears are cut with a conventional off the shelf $3 end mill and that end mill will cut any gear provided it can reach the root, don't believe it, watch the video.......
http://www.youtube.com/v/qZJ95I3ZWro&
Not a great picture, the white nylon doesn't help but I'll redo it later on brass or similar. Main thing is it shows the operation, the cutter blocks a slot out and then by using all 4 axis at the same time it moves away, raises the cutter and rotates the 4th axis so each pass is at a different angle and part of the involute. You have the choice of selecting how many passes per tooth.
But because specials cutters are not needed it's now very easy to modify gears to fit an application. I cut two 14 tooth gears to text book specs, mounted then on two pins the required distance apart and they ran perfectly, I then made two more identical blanks but cut 13 on one and 15 on the other.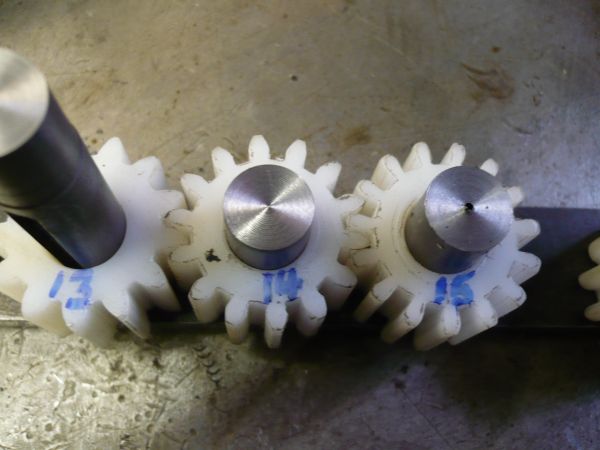 You can swap these in any order and they run fine. Helicals are still a work in progress, they work but the tooth shape is not correct yet.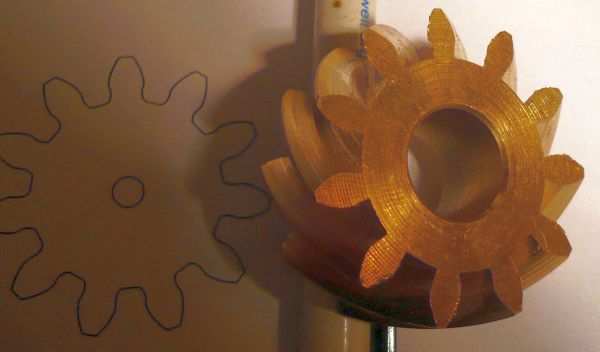 Again simple tooling, in most of these cases the tool was a throw away FC3 3mm end mill costing £2.99
[Edit]
Forgot to add but the program will be a work in progress, if there is a demand for an application then it may be added if possible. Bevels are definitely on the cards but the program is for general release first.