New thread as the old one went off tilt a bit but prompted initially by Darrin's thread over on PM a while ago and Evans regurgitation of it I resurrected my trials on it.
First a bit of history to see why I went this way.
I get called on the modify ballscrews for CNC machines, just machining the ends. The ball-screw is dispatched in long lengths with a ball nut fitted and these are cut with a slitting disk to length and machined, often the waste length can be up to 600 - 700 mm long, they don't bother because the ball-screw is relatively cheap, it's the nut that costs the money. So I have a series of cut off lengths that are basically worthless.
First try about a year ago was to grind 3 flutes in a small section and tap it, the end result wasn't very good so it went on the back burner, then Darrins remark prompted a go at doing it which worked but I wasn't happy with the result.
Evan did roughly the same as Darrin but posted his results better laid out for people to follow.
Anyway after a few trials and tribulations I came up with this.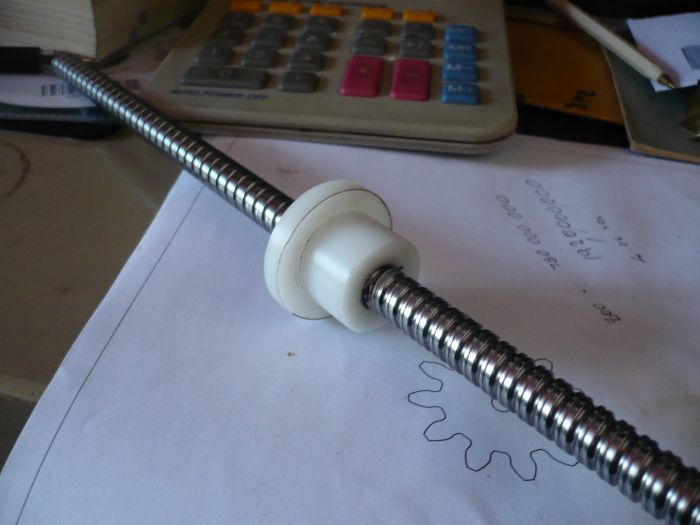 A one piece ball nut in some crappy plastic that was on hand, probably nylon or nylon 66 with no splits in it and a fully formed thread inside.
Can't get a shot inside as the whit nylon fuzzes the picture up, runs nice on the ball screw and my next step is to do a square nut and replace the Y axis standard nut and block on a X1L machine I have here for testing.
The X1L already has CNC on the Y but using standard parts, it will be interesting to see how it behaves.
BTW, none of this is new, Moore international have made round thread screws and plastic nuts for quite a few years, called Rondo Thread.
http://www.moore-international.com/l...nd_thread.html
On their web site they go on to say:-
Rondo round thread has been developed as a true alternative to Acme / trapezoidal threads. They deliver outstanding efficiency and quiet running due to their round thread profile. In terms of performance Rondo has almost twice the efficiency against standard acme, trapezoidal threads.
More on this method later when I get some process shots.
.