I've spent way more time than I want to admit during my "stay-cation" this past week massaging various areas of the little Sherline/Denford CNC Micromill. I'd hoped to have it all back together by now and humming smoothly but alas, it ain't to be. I got tired of putzing around with finicky little crap and decided to stop for a bit and post a couple pics.
Sherlines's website has a drawing of their latest x/y base that has several oil passages drilled in it with plugs at the ends that allows the leadscrews/nuts to run immersed in an oil bath. I duplicated their design and then turned up an oil reservoir out of acetal. It has an o-ring sealed cap with a vent hole. The vent is plugged up with a capscrew when not in use to prevent all the oil running out. You can see the extra nut that is adjustable to remove backlash but sure is pain to get set right. Hopefully the oil system will slow down leadscrew/nut wear.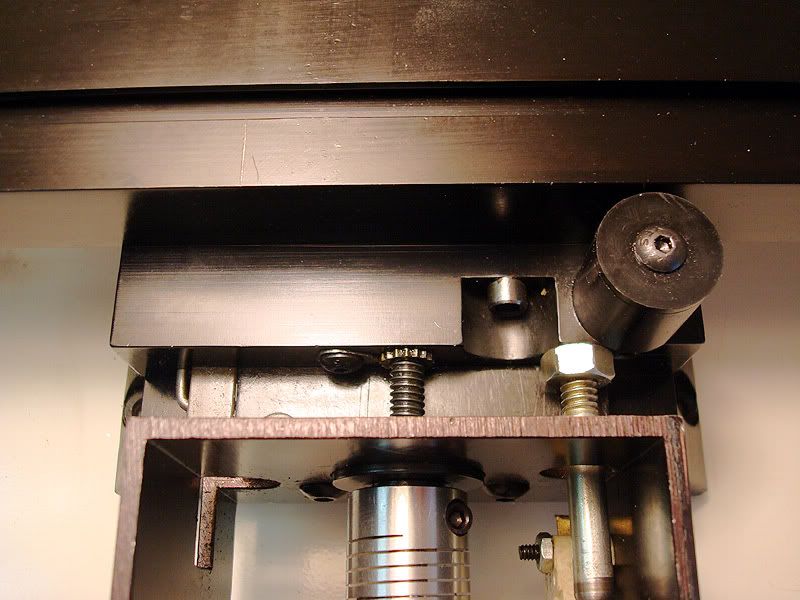 The Z-axis was a pain as well because it had about almost a quarter turn of backlash. Sherline's website shows how they utilize their brass Z locking nut to adjust out the backlash so I plagiarized that idea too. I did add an acetal block between the two with a nipple in it to feed oil to the leadscrew. I'll have to mount a small remote oil reservoir with the same plugged vent cap system as used in the x/y base and add a bit of flexible tubing. I cobbled up my own adjustable lock system and knob as well.
The blue disc at the top of the leadscrew is the extra roller bearing I added to replace the metal to metal plain washer system that Denford used. I turned off a bit of the leadscrew to make room for it. It is much smoother now!
The plate at the top of the column is a spacer I made to replace the metal I had to mill off to square up the end. It had 2 corners radiused off from the factory that allowed the stepper motor mount to dig in and cock when the mount screws were tightened. The mount was so crooked, the stepper motor shaft wasn't even close to being aligned with the coupler. The coupler fell into 2 pieces when I took it apart. Mis-alignment metal fatigue killed it I'm sure. It's now nice and tight & square so hopefully it'll survive now.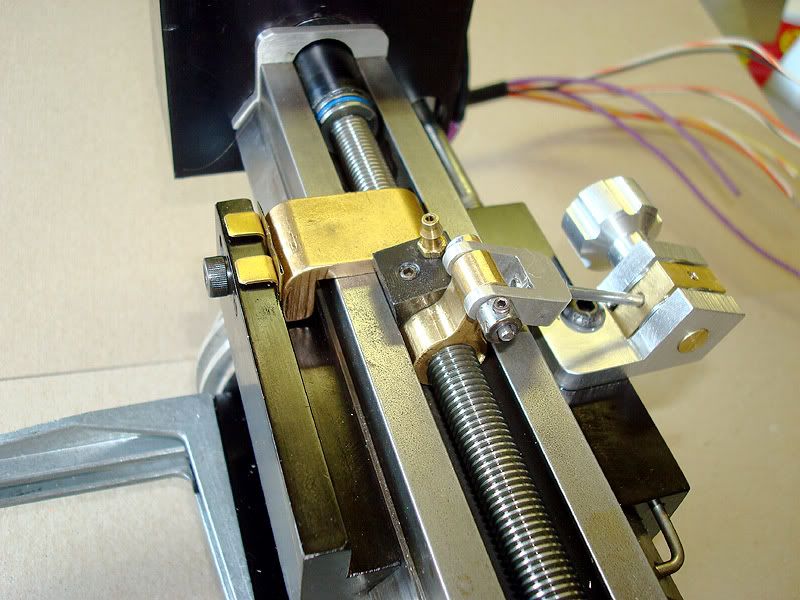 Next up is the z-axis counterweight system made from a couple of inline skate wheels for pulleys and bit of steel cable to take some load off the little bitty stepper motor.
Sheesh, I think I could've fixed up a "real" mill with all the time spent!