Hello - I posted a "Back Again" thread earlier today noting that I am a returning member after an absence of a few years. I HOPE that I'm posting the photos properly since every board seems to have slightly different rules about this.
Christmas is coming again; at this time of the year I'm always struggling for gift ideas and some of you may be in the same situation. Here are some ideas that I've previously posted and I would sincerely appreciate it if you guys can pass along other suggestions of things that you've made - I'm running out of ideas !
My family and my wife's family like to exchange hand-made gifts on special occasions. A number of us are woodworkers, two are glass-blowers, one makes jewelry, several paint and so forth. I've always loved woodworking and having metalworking machinery can be a big asset once one progresses past making picture frames, chess pieces and salt/pepper shakers for gifts.
Making these small projects is usually the least troublesome part of the process - where I have difficulty is coming up with IDEAS. When so many family members are crafts-oriented, it's difficult to come up with something that others have not already considered and built. So once I come up with an idea, I usually try to build a number of projects with common parts, to save time.
Here are some of the gifts that I've made over the past few years, most are woodworking but I've used my milling machine and lathe on all of these projects, sometimes to work the wood, sometimes to make the metal parts associated with them and sometimes to produce tooling to make the job simpler or better. Only recently (since acquiring a digital camera) have I started documenting these projects so, unfortunately, only a few projects have been saved "on paper".
This is a music stand, made from Western Ash. The height adjustment slot was milled and the clamping mechanism turned, as were the metal feet and the angle adjuster on the front foot. The "fanned" shape of the sheet music holder was formed by the angles and spacing of the slots that position the thin slats of ash. These slots were produced in the milling machine with a trim router in a jig that adapts it to the quill.
For what it's worth, my highest spindle speed in the vertical mill is 3200 RPM. Before I hit on the idea of using the trim router in the mill, I tried straight-flute router cutters for working wood but the speed isn't really adequate for small cutters and I found that two-flute end mills performed better and produced less burning, provided that they were sharp. It's important for health considerations (and for good housekeeping) to use some form of dust control when working wood. I rig a shop-vacuum pickup as close to the cutting tool as I can safely locate it.
A made an arbor for a 7-1/2 inch "Skil saw" carbide blade, which is useful for slotting. Ganging a pair on an arbor is handy for producing finger joints if one doesn't happen to own a fixture for the table saw. The finger joints in this partly-completed oak guitar amplifier cabinet were made on the milling machine, as was all of the routing on the cabinet. (The vacuum tube amplifier chassis is partly visible in the background.)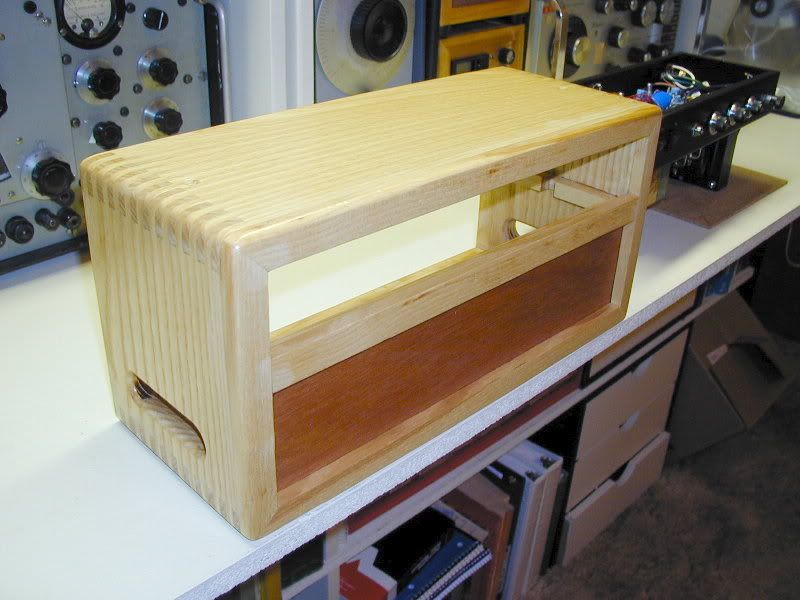 Numerous family members enjoy boating, both sail and power. One year I produced a number of gifts with a nautical orientation. Here is a night-light made from cedar and oak. There's a lot of turning involved but the mill was used to drill a number of small holes in the brass rods used for ladder and handrails. After cleaning, all of the brass parts were carefully soft-soldered together and then sprayed with clear poly to prevent tarnish.
One year, with Christmas approaching, I cranked out a number of candle sticks, seven sets of three each (with different heights). The materials were Western Ash, aluminum and brass. I searched the internet for aluminum and brass tubing until I located the best price. The design of the candlesticks sort of evolved from the tubing dimensions. Although it isn't easily observable, the ash portions of the candlesticks are octagonal - milled in a spacing head with an extra vise supporting the free end of the workpiece instead of a tailstock center. The ash and the various sections of tubing were epoxied together and, after curing, chucked and turned in the lathe.