Apologies for interrupting the board with my minor HSM triumph. There should be a wink right here but the software counts that as a photo.
I'm replacing the generator on my 53 Hudson with a modern alternator, so I needed to make an 84mm OD (3 1/4") B-section V belt pulley with 17mm bore. I thought I'd try the job using my 3.2mm carbide insert parting blade, because I've got one of them, rather than worry about form tools, and it all worked quite well. One reason it worked I guess is because I made an aluminium pulley, don't know that I would go too well with a steel or cast iron pulley.
First job was to make a nice stiff mandrel to stand the pulley blank an inch and a half or so off the chuck face. This was because I was going to be swiveling the compound round at 17° to cut the pulley sides and would need clearance on the LH side of the pulley.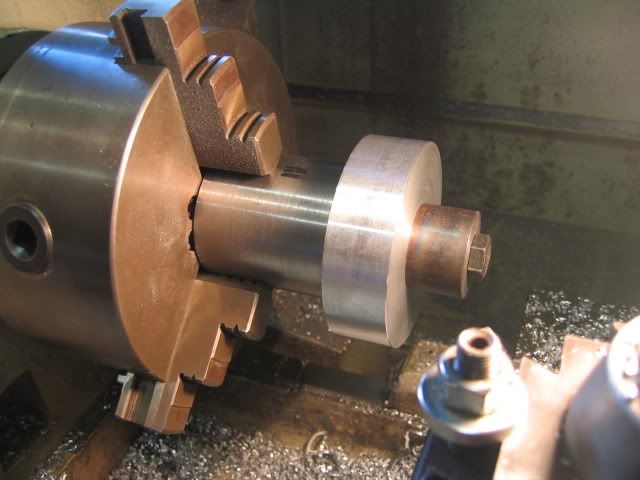 The mandrel is a piece of 2 1/4" round steel with the end turned down to 17mm, same as the new alternator. The aluminium blank is 84mm x 25mm and is clamped to the mandrel with a 30mm washer and M10 bolt.
Put the parting off blade in to the depth of the V groove which is 18.2mm deep and also use the blade to mark the edges of the V groove which is 16.6mm wide
Swing the compound to 17° and take off 1mm at a time until the groove is the right width. As you would expect there is a fair bit of deflection in a parting blade when its only cutting on one edge, quite a few spring cuts were needed before the blade stopped removing metal. At least the insert stayed in the holder, which was another unknown.
All done and ready to go to work.